Are you looking for the best supplier of shutters in Kent? If so, look no further than Just Shutters, as we provide top-quality products along with a competitively priced installation service. Whatever part of your home or commercial property you're looking to install shutters in, we're guaranteed to have a set that will meet your requirements. To discover our full range of shutters, customers in Kent need only call our team today on 0345 894 0700.
Discover the Best Shutters Available to Customers in Kent
Window shutters are a feature found in many homes and commercial properties, yet they are often overlooked; seen as an insignificant part of the decor. Shutters play such a crucial role that they are, in fact, an invaluable addition that you simply can't do without. From controlling the light levels inside and enhancing the interior decor to managing the privacy levels; shutters can do so much.
It's not uncommon for customers to opt for blinds or curtains to dress their windows. While such options look great, the advantages of shutters make them a perfectly viable alternative. Here at Just Shutters, we stock, supply, and fit the widest range of shutters to be found anywhere in Kent. With many options to choose from, the hardest decision will be choosing the ones that you like the best.
Shutters Kent Customers Will Love
Here at Just Shutters, you'll find exactly what you're looking for when you're in the market for high-quality shutters. Kent customers will be inundated with a staggering range of choices that will make customising their shutters a simple process. Options include:
Louvre Shutters
From traditional and cosy looking to bright, vibrant, and modern looking, we have louvres to suit any room. Light and modern or warm and sophisticated, these louvre shutters are designed to complement any room in any property in Kent. Browse our entire range by clicking on our louvre shutter sizes page and discover just what makes these a wonderful choice for your home or business.
Materials in Kent
When choosing a set of shutters for your home, the choice of materials is as important as the design itself. Make the right choice, and the material will complement your décor in a way you couldn't possibly have imagined. At Just Shutters, we supply Kent with shutters in a variety of material styles, including:
CraftWood
DoveWood
LindenWood
CoralWood
PearlWood
Plus, there's our exclusive Coastal range of shutters as well as a range of special finishes to give your shutters that superb finishing touch.
Shutter Colours
Just as crucial as the material is your choice of shutter colours. Fortunately, here at Just Shutters, we have you covered in this respect. We have options ranging from delicate cream colours and warm crimson hues to cooler white and blue tones that will look incredible as part of any decorative scheme. Click on any of our colourful shutter images to see our range for yourself.
Shapes and Frames
Not every home comes with standard shaped windows. Some feature more unique shapes, and so it's important to find shutters that fit. We supply our shutters in a range of special shapes to accommodate the stunning and the unusual. From triangles to portholes, our team take great pleasure in crafting for Kent, shutters of the highest quality in any shape.
As far as framing your shutters goes, Kent customers will be spoilt for choice when they opt for Just Shutters. Our shutter frames range from the usual to the unusual and, thanks to our expert designers, you can be certain that your shutters will be framed exactly as you want.
Applications and Styles Available for Our Kent Shutters
At Just Shutters, we supply products that are all bespoke, each one crafted to the customer's exacting specifications. Designed in-house by our experts, we can create shutter styles engineered for a whole host of applications. From tracked shutters and bay window options to tier-on-tier and café style; there are options to suit any scenario.
Hinges and Fixings
Only at Just Shutters will you discover the best range of quality fixings and hinges with options to suit any shutter shape, colour, and style. While this is one detail that is often overlooked, it is a vital aspect none the less, and so should always be carefully chosen. At Just Shutters, we supply plantation shutter hinges and fittings that will make a huge impact on the surrounding space.
Interior Security Shutters
If you're looking for the most secure interior security shutters, look no further than Just Shutters – the number one choice for Kent shutters that offer outstanding security benefits. Inspired by homes in South Africa, these shutters combine durability, strength, and world-class aesthetics. They look incredible while simultaneously protecting your home from unwanted guests.
Our team of local experts will walk you through all the options that have been mentioned above, providing you with advice and suggestions. To help you get the most out of your Kent shutters, we recommend you request our latest brochure and schedule a design visit from our team at your earliest convenience.
What Are The Benefits of Having Shutters Installed?
There are many excellent benefits to having a set of shutters installed in your Kent property. Understanding what these benefits are should make your decision that little bit easier. We've taken the liberty of explaining the benefits of shutters below, so Kent customers will be able to make an informed decision:
Shutters Provide Great Sound and Thermal Insulation

Our shutters are made from high-quality wooden struts that, when closed, provide outstanding sound insulation. With an extra solid layer to penetrate, external noises can be further dampened, making shutters a fantastic choice for living spaces such as lounges and bedrooms. While closed, shutters can also help to trap in some of the residual heat, helping to keep your property warm.
Conversely, during the summer, shutters can be closed with the windows left open, allowing cool air to enter while deflecting some of the unwanted heat.
Low Maintenance
If you suffer from allergies, then a set of shutters from Just Shutters may be precisely what you're looking for. Unlike curtains and blinds made from fabric which can harbour dust and dirt, shutters are far easier to clean. Just wipe them down with a damp cloth and your blinds will be free of dust and dirt once more. Far simpler than having to take curtains down to wash and dry them.
Manage Your Privacy
Curtains are somewhat limited when it comes to managing privacy. They are either open or closed and, unless you place net curtains behind them, people will easily be able to peer in while the curtains are open. With shutters, the slats can be angled to let in light while obstructing line of sight. With a set of louvre shutters, you can enjoy the best of both worlds in Kent!
Aesthetically Pleasing Shutters
When you're searching for an aesthetically pleasing option, make sure you consider investing in a set of shutters. Kent customers will delight at the way in which they enhance the aesthetics throughout, beautifully complementing your décor in ways that are sure to impress. Shutters are also highly versatile and can be easily removed and replaced with curtains or blinds if desired.
UV Protection
Shutters are designed in such a way that the slats can be angled to control the light levels filtering into the room. The idea is to deflect light away from furniture and flooring, protecting it from the effects of direct sunlight. But what about the shutters? A UV-protective layer can be applied to the outside of the shutters to protect the panels from warping and the paint or finish from peeling.
These are just some of the many reasons why customers should consider investing in a set of quality shutters for their property. If you have any questions or would like to discuss how we can transform your property with a new set of shutters, call Just Shutters now on 0345 894 0700.
Why Choose Just Shutters?
Welcome to Just Shutters – the home of quality shutters designed with the client's creative vision in mind. For more than 30 years, customers throughout Kent have benefitted from the expertise of our local shutter specialists. Plantation shutters are our specialism and our passion, so you can expect nothing short of exceptional results when you choose to call us today.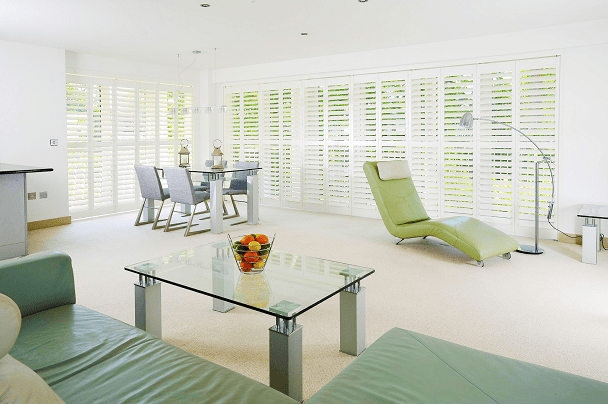 Established in 2006, Just Shutters now enjoys a prestigious reputation that has resulted from 13 years of outstanding workmanship. From our initial design consultation through to the fabrication of your shutters and the installation; we're with you every step of the way. Our goal is to supply you with shutters that satisfy your needs and taste while providing you with much-needed practical solutions for controlling light levels and managing privacy.
What sets us apart is that our shutters all come with a lifetime guarantee. This means that, should any issues occur, you can rest easy knowing that we'll fix, replace, or refund your shutters. But what if you don't live in Kent? Not a problem, as we've branched out to cover many areas across the UK. From Cornwall and Devon to Dorset, Hampshire, Sussex, and Surrey; wherever you're located, we can help.
All our shutters are backed by the impressive knowledge of our local specialists. We offer a service that is second-to-none, so you can enjoy complete peace of mind that you've approached the right company for your shutters. Customers have voted us the number one choice for service and quality shutters. If you'd like to see for yourself why that is, give Just Shutters a call today.
Testimonials and FAQ
Find out for yourself why we come so highly recommended by so many. Click on our Checkatrade profile and read some of the glowing reviews we've received from our customers in the past. Alternatively, if you have any questions which have not been addressed in this article, click on our plantation shutters FAQs page or give us a call on the number below.
Contact Us
Discover what makes Just Shutters the best choice for shutters, Kent has to offer. Call us today on 0345 894 0700 and speak to a member of our friendly and insightful team. Alternatively, drop us an email at information@79.170.40.239 or check out our shutter galleries for more inspiration.