Plantation Shutters are intrinsically child safe. Young children, naturally, love to touch everything around them. Curtains and blinds have caused many an accident and indeed sadly fatalities over the years in infants and toddlers. Shutters, unlike curtains and blinds, do not have any dangerous cords and are securely fitted, so there is no chance of them falling down or causing injury.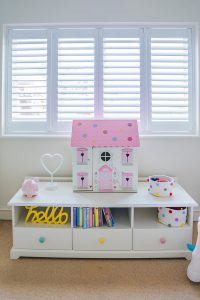 MAKE IT SAFE
Make it Safe is a campaign from the British Blind and Shutter Association (BBSA) to promote window blind safety in all homes, public buildings, and other environments where babies and young children may be present.
Click Here to learn more about the 'Make It Safe' campaign.
SAFE BY DESIGN
The BBSA advocates plantation shutters as one of the best forms of window dressing as they are 'Safe By Design' and therefore should always be considered first when choosing a window covering.
The 'Window Blind Safety' brochure can be downloaded here.