Have you recently discovered the visual appeal and functionality of solid shutters? Margate clients are in luck now that they've arrived at Just Shutters. We have a fantastic range of these types of shutters available to match your exact aesthetic requirements. Get in touch with us today by calling 0345 894 0700 – we would be more than happy to give you a free estimate for your chosen products and installation.
Looking for Margate Solid Shutters?
Welcome to Just Shutters – home to the most beautiful solid and plantation shutters available on the market. With more than 30 years of experience with interior shutters, we're the true experts in our field. Stunning plantation shutters are what we do – it's not only our specialism but also our passion.
First founded in 2006, we have gone from strength to strength since our establishment and built up an enviable reputation in Margate as well as all of the surrounding areas. We are very proud of our loyal client base that not only comes back to us for more work but regularly recommends our services to others.
Your home and all of its unique aspects are at the heart of our thinking when we make our recommendations for window shutters. From our first consultation that will focus on your style and needs, through to fitting and up to the final handover, we will ensure that your property is expertly treated.
For many years to come, you will be able to admire the practicality, style, and beauty of your beautiful new solid shutters. Margate clients can be confident in the knowledge that every set we supply comes with a lifetime guarantee.
What Makes Ours the Best Solid Shutters Margate Can Get?
At Just Shutters, we're here to ensure your satisfaction. Our goal is the establishment of a long term working relationship. You will, therefore, find our approach to be unique among shutter companies in Margate.
Our reviews and level of repeat business speak for themselves, and our product quality is unbeatable. With fast turnaround times, cost-effective prices, and the most efficient installation services in the industry, we are definitely the team to call.
How Much Will the Solid Shutters Cost?
People will want a budget for their solid shutters before they commit to a purchase, and this is perfectly understandable. Shutters can vary greatly in price, so it's hard to give an estimate that would cover all of the differing ranges.
The beauty and style of our shutters definitely make them appear a luxury item. However, when you consider that they require very little maintenance, they're fully mould resistant, and they won't warp, the investment is worth it. On top of that, there's the lifetime guarantee.
We would recommend that customers interested in Margate solid shutters take rough width and height measurements of their windows. Then give our friendly team a call on 0345 894 0700 and we will give you an initial quotation over the phone, so you have a better idea of what to expect.
Our quotes come with no strings attached and no obligation to commit. During this early stage of the process, we simply like to have an informal discussion and give our potential clients a realistic price estimate so they can budget accordingly.
Frames for Your New Solid or Panel Shutters
There are two main mounting and framing options available. Below you will be able to get a better idea of the differences. If you're still unsure about which option would be the optimal one for your project, then simply drop us a line or call our team. We're always here to help and give impartial advice that benefits you.
Inside Mount
With this option, your new shutters will be installed on the inside of the recess opening. This will require sufficient depth for slat clearance as well as the handlers. The bigger the slat, the bigger the depth required.
Shutters will fold back against the inside of the recess if they are mounted this way. They may protrude further than the recess, depending on its depth and the size of the panels. It's also possible to mount them in a way that will make the shutters fold back against the walls on either side of the window.
Outside Mount
An alternative option is outside mounting. This process involves fixing the shutters onto the wall outside of the recess opening.
Come to Just Shutters for the Finest Selection of Shutters Margate Offers
Just Shutters established its roots in the county of Dorset, which is still our main base of operations. However, we have enjoyed fantastic growth over the past few years and greatly expanded our reach. Our customers can be assured that despite each expansion, we have maintained the personal touch that made us popular in the first place.
From Cornwall to Devon and Hampshire to Kent, we provide our service through much of the UK. If you're not completely sure whether your location is in our catchment area, simply get in touch with us. We often travel to facilitate the requests of our customers and we have connections in most regions of Britain.
Regardless of which branch you're dealing with, you will get a fantastic service unlike any other. Each customer is valued equally, regardless of the size or complexity of their requirements. We also provide free home visitations if you're not fully convinced whether one of our shutter sets would be the best option for you. We understand that the number of available options is vast.
This process would involve one of our experts coming to your house and discussing your ideas with you in detail. Once we see exactly what we're working with, we will be able to give you even better advice requiring the best products.
Materials Used in the Production of Our Window Blinds and Shutters
[vc_column width="2/3″]The materials we utilise are of the highest possible quality. Follow the links below to find out more about all of the available options, including but not limited to:
Other Types of Window Shutters We Offer
While many customers come to us for solid shutters due to their timeless visual appeal and great functionality, Just Shutters has many other options available. Orders have recently increased for our coastal shutter range, for example. Keep reading below to find out more about this luxurious range that's exclusive to our company.
Coastal Window Shutters
Just Shutters is proud to present a truly unique collection of eight different stunning colours that have been inspired by the beautiful British coast. Our exclusive coastal range will transport you to the heart of beautiful holiday memories.
The salty sea spray, the tingle of sandy flip flops, the cool evening breeze, and more. We have captured the essence of these nostalgic feelings in our one of a kind colour palette that you and your visitors are going to adore.
What's more, the colours have been carefully toned to ensure maximum longevity. When you couple these colours with our contemporary louvered shutters with hidden tilt rods, the impact is something undeniably special.
Specifications
These aesthetically beautiful painted finishes are ideal for today's trend towards natural textures and relaxed washed interiors. Made from premium sustainable hardwood, the shutters are available in 89 mm and 114 mm louvre sizes, and eight exclusive colours.
Horizon – Grey and Blue
"Sail away on a sea of possibilities!"
Awaken – Sun Kissed Pink
"The dawn breaks and gifts another day."
Tranquillity – Confident Blue
"Let your thoughts sail away into the blue."
Dune – Rich Warm Sand
"The warm summer sand between your toes."
Jurassic – Deep Aqua Green
"A momentary pause as we journey through time."
Twilight – Late Summer Evening Blue
"Taking a moment to reflect upon your dreams."
Haze
"Salty kisses on cool misty evenings."
Golden Dusk – Sun Kissed Golden Sand
"The evenings in which memories are made."
Coloured Shutters Margate is Going to Love
With coloured shutters, you can create a beautiful striking impact on the property that will be obvious from the moment someone walks into the house. On top of the aforementioned exclusive coastal colours, we also have bold shades available if you're looking for something wilder.
In fact, our range has more than 60 standard colours and shades in it, which is unparalleled by any other supplier of solid shutters Margate has available. Almost anything is possible with our specification service, so don't hesitate to get in touch – no request is too complicated.
Shutters with Special Shapes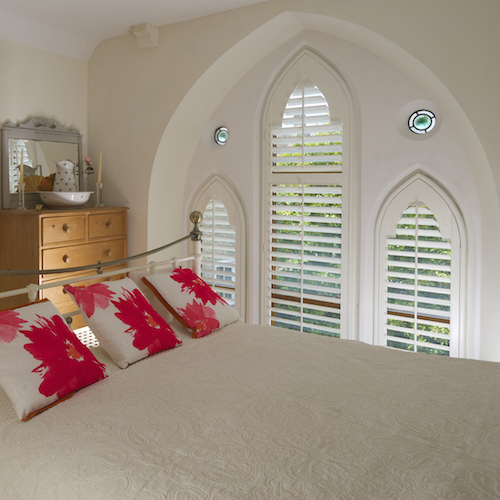 For uniquely shaped windows, shutters are a must to complete the picture. All of our specially shaped plantation shutters have been individually designed to not only match, but elevate your existing layout.
You can make a stunning design statement with triangles, arches, portholes, and other fantastic available features, for example. Many uniquely shaped windows simply end up lost behind poorly fitting curtains or blinds, which is a shame as they should be enhanced instead of getting hidden.
Over the years, Just Shutters has designed and fitted thousands of beautiful, unique, specially shaped shutters. Our installations include a 50 foot atrium, perfect portholes, and everything else in between.
A Fantastic Exterior and Interior Shutter Range
Just Shutters has built up a truly unrivalled reputation for being the number one choice for shutters in Britain. We're very happy about the fact that a lot of this is due to word of mouth. We get regular referrals by happy customers who have been satisfied with our product quality and installation excellence.
With more than 1800 positive customer reviews to demonstrate, you will know that you're making the right choice with us. Getting your shutter journey started couldn't be easier – just pick up the phone, dial 0345 894 0700 and tell us about your ideas.
Hinges and Fixings
At first, customers may think that shutter hinges and fixings are merely a detail. These details make a huge difference in the overall feel and look of your new window shutters, however, so they definitely shouldn't be overlooked.
From discreet options to strong products that make a statement, we have everything available in our range. Whether you want a pillar box red shutter with a contrasting brass hinge or a very minimalistic white on white option, we can oblige.
We'd be happy to discuss with you all our options for framing and mounting. We'll also give you advice on which hinges suit your particular shutters best at your initial measure and design consultation as part of our full service. We will take your décor, style, and room layout closely into account before making our recommendation.
Galleries with High Quality Images of Our Impressive Shutter Selection
Would you be interested in seeing some high resolution images of our beautiful shutters after they've already been installed to the delight of our customers? If so, then check out our online galleries.
Our team members are beyond confident that seeing these pictures will give you that final reassurance that you need for enlisting our expertise. When you're ready to get your project started, we look forward to hearing from you via one of the below contact methods.
Contact Your New Window Shutter Expert
Give Just Shutters a call today on 0345 894 0700 to speak to a shutter professional about your ideas and requirements. You can also reach us by filling out our online form with your details. We'll get back to you as soon as possible via your preferred method of contact and at the requested time if one is specified.