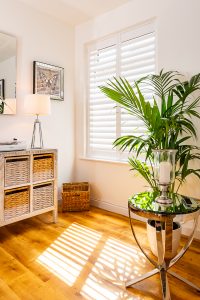 Now is the perfect time to make changes to our homes. Georgina Broadhurst of Just Shutters Surrey has identified these three easy ways to update your home in a weekend!
Organise & Declutter
Whether you decide to dump the junk drawer or empty out a hall cupboard, you can easily organise one space in a weekend. Along with organising comes decluttering. Clutter in your home clutters your mind too. And let's face it, we have enough to manage; we don't need clutter making it harder.
Ask yourself three questions when decluttering: 1. Is it beautiful? 2. Is it useful? 3. Is it sentimental? Depending on your answers to those questions, you can keep, donate, sell or recycle.
Add a Plant
I know it may not seem like much but adding plants to your home is good for you, mentally and physically. If you have a 'black' thumb, then add houseplants that require little maintenance. Choose ones with instructions such as "let soil dry out between watering". That way you only need to remember to water them once a week (even less sometimes).
Spruce-Up Your Bathroom
Bathrooms get dirty and dingy quite quickly. Begin a bathroom overhaul with a thorough cleaning. The shiny result will give you motivation to spruce-up the rest of the bathroom.
Once the room is clean, look for outdated knobs, light fixtures, towels, taps and shower curtains. By simply changing one or two of the most outdated items, you can make your bathroom look modern and new. A coat of paint can really go far in a bathroom, as well. It is easy to create the feel of a brand-new bathroom, without tearing out cabinets, walls or sinks.
Find out more about Just Shutters Surrey here or call 0345 894 0700 to see how our gorgeous shutters can help transform your home.