Warminster Shutters by Just Shutters
The ancient Market town of Warminster, with homes of such distinction, deserves only the best. Just Shutters provide the best, yet with local family values for such large and established shutter specialists. You are assured of the highest quality shutters and customer service with value for money.
Expert Advice
Toby Eliot is your local design expert from Just Shutters. The advantage of having a Just Shutters business in your area means you always receive first-class communication. Toby is passionate about all things shutters and relishes guiding our customers toward transforming their homes with the most stunning plantation shutters.
Shutters have many benefits
Shutters are so much more than an interior design choice; they are also incredibly practical. In the dark days of winter, they keep the heat in and screen out the cold and wet. In the intensifying summer heat, they keep a home shaded and cool.
They also:
are so easy to maintain
do not warp or bleach in sunshine or temperature change
are guaranteed for life: while you own the shutters, we guarantee them
are great for different shapes – arches, angles, even perfect portholes. Shutters offer a unique and flexible solution that ordinary blinds or curtains simply cannot match.
increase security – closed shutters offer a valuable second layer of protection to a window
add to your privacy
offer versatility of light and shade – from fully open to almost blackout
add a quality and style that is simply superb.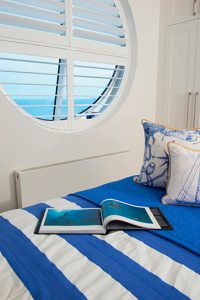 A lifetime investment
At Just Shutters, much research has been undertaken over the years to source the finest quality materials, with an extensive range of styles and finishes, which includes exclusive ranges in our signature style. Trust is built with our customers from initial consultation through to final installation. With our constant focus on thoughtful quality, you can be assured that you will love your beautiful shutters for many years and with our lifetime guarantee, Just Shutters are a sound investment in your home.
Contact Just Shutters Warminster
For more information or to book a design visit which is free of charge – in which Toby will work with you to build a bespoke package – get in touch by phoning us on 01225 302 599.
Call us today and discover how we can transform your home inspiration ideas into a delightful reality. Our friendly team are here for you to answer any questions you may have.
THE JUST SHUTTERS DIFFERENCE
Our quest is to ensure you have an extraordinary journey with us, beginning from your initial contact with us, all the way to the culmination of your final installation and beyond. However, instead of solely relying on our assertion, we encourage you to read our many positive reviews here on Checkatrade.