Waterproof shutters for bathrooms by Just Shutters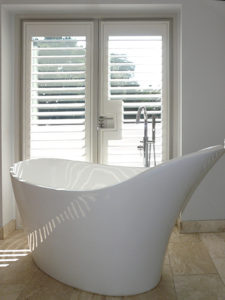 Just Shutters have been providing customers with waterproof shutters for years, giving them a great alternative to curtains. These are specifically designed for bathrooms as they can tackle the humidity! Rather than curtains, shutters will not warp or grow mildew in a humid environment. Read the features of bathroom shutters below or visit our stunning gallery of bathroom shutters by clicking here.
What makes shutters suitable for bathrooms?
The main feature that makes shutters suitable for bathrooms is the option to water proof them. The humid atmosphere in a bathroom can cause a range of problems for other types of window coverings. For example, over time mildew will develop on curtains and blinds. As a solution, shutters can be made from coated timber cores (i.e. wood shutters coated with a synthetic water resistant surface).
Furthermore, are shutters are incredibly durable. As a result, you will benefit from incredible longevity – as well as our lifetime guarantee!
There are many more beneficial feature that shutters boast. For example:
-Energy efficiency: the addition of shutters adds a pocket of air to a window. Consequently, insulation is increased.
-Bespoke: our shutters are made to measure. As a result, you can rest assured they will fit in to your homes perfectly.
-Child friendly: Shutters are entirely safe around children. Therefore, they are perfect for bathrooms in busy family homes.
Get Waterproof shutters for bathroom windows in your home! Contact us today.
Contact the dedicated team here at Just Shutters to discuss our bathroom shutters. Our team strive to ensure that each customer who contacts us is taken care of and experiences a premium level of service. Our commitment to what we do is evident in the fact we've been awarded an incredibly high rating through Checkatrade!
Speak to us on 0345 894 0700 or alternatively click here to find your local expert.