What are plantation shutters and how will they benefit me?
If you would like to know more about plantation shutters and how will they benefit you,  call Just Shutters on 0345 894 0700. Alternatively please read on and browse our beautiful shutter galleries or request a home design visit.
Plantation shutters are a low maintenance, classy, alternative covering for windows and doors. Furthermore shutters possess significant benefits over curtains and blinds.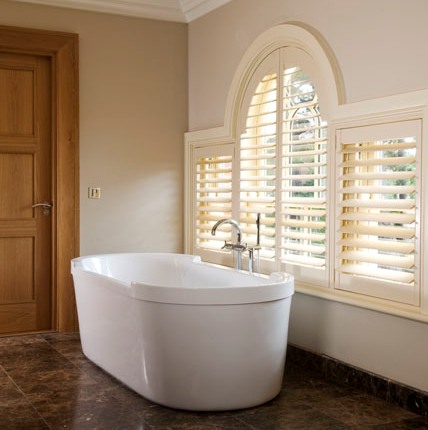 Plantation shutters are no longer used just to increase the privacy in a home, improve security or to filter sunlight into, or out of, a room; these high quality shutters are now in high demand as a design statement. Shutters are preferred by interior designers and people looking to add style and value to their home.
Just Shutters shutters are all fitted internally. All our shutters made from very high quality materials. They are available in a wide range of colours and designs to fit almost any internal colour scheme. We even have our own exclusive ranges. They add elegance to a property, whatever its age.
Any shaped door or window can have shutters fitted. We have created stunning round, angled and arched windows and doors. Furthermore, shutters can even be adapted to the interesting shapes needed for conservatories and glass roofs. However, they don't even need to cover a full window or door! Partial coverings such as our cafe style shutters can increase privacy and light, while adding style.
What do plantation shutters look like?
There are two types of plantation shutters; slatted, known as louvered, or solid.
In fact many people call the louvered shutter 'plantation blinds' or 'shutter blinds'. This is because of the way the slats, can be opened and closed in the same way that blinds can. However here the similarity ends! Blinds are made of cheaper materials that have neither the longevity nor many of the other features associated with shutters.
Our shutters provides significant benefits over other window or door coverings; including increased privacy and security. Additionally they need less maintenance and are extremely hardwearing. Furthermore shutters can increased home value.
As well as these wonderful benefits, shutters are child safe, improve energy efficiency in the home and they may even help people suffering from allergies.
With our range of materials and finishes we are sure to be able to create the perfect shutter solution for any room.
Enhancing your home
When closed, plantation shutters offer warmth, privacy, and protection. Opened, they create a sense of spaciousness while still giving access to even the most breathtaking views. With an almost magical ability to direct ambient light into a room. Shutters truly are a unique and exquisite way to dress your windows and doors.
Call us today on 0345 894 0700 or contact us here for more information.
Plantation shutters are the elegant option to add to warmth, security and design to any home.