What are shutters made of?
Generally speaking, either wood or MDF (medium density fibreboard) are the materials used to manufacture shutters. For a detailed overview of the material used in our shutters see below.
Craftwood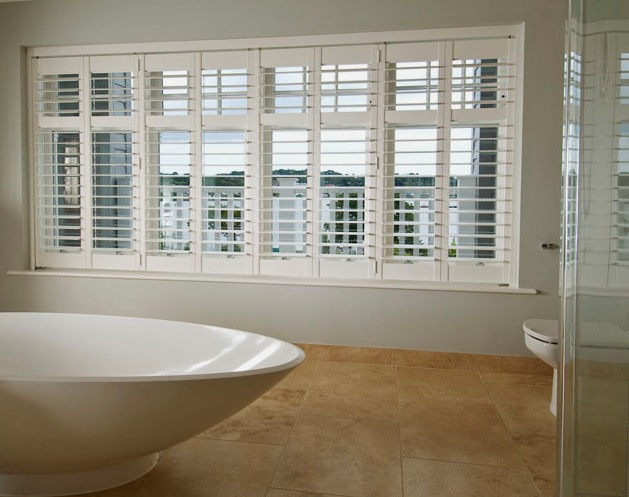 Craftwood, our most popular option, is a durable high quality MDF with a fantastic finish. Furthermore, our craftwood shutters are available in a choice of 5 colours as standard.
Additionally, We offer craftwood express which is manufactured in the same way as craftwood but in as little as 3 weeks!
To learn more about Craftwood, please click here.
Dovewood
Dovewood is a hybrid of our craftwood with louvres from our PermaWood shutters. These shutters are well known as a top quality affordable option. Furthermore, dovewood is available in a variety of different colours and finishes – giving you endless possibilities to suit the décor of your home!
To learn more about Dovewood, please click here.
Lindenwood
Known for its luxurious style, Lindenwood is a premium real wood that is clean straight-grained and uniform in colour. Furthermore, our Lindenwood is available in 51 standard paints and stains, with thee option to choose Farrow & Ball or Dulux paints as an extra.
Lindenwood can also be used in the manufacture of shutters for irregular shaped windows, as a result it is not difficult to see why this luxury option is so popular.
To learn more about Lindenwood, please click here.
Coralwood
Coralwood is a beautiful hardwood which is used to make the louvres that are fitted in a Craftwood frame. Known for its lightweight property coupled with its impressive durability, Coralwood is a perfect choice for large windows. Furthermore, Coralwood is available in six high quality finishes – ensuring that we can match the décor of any interior.
To learn more about Coralwood, please click here.
Permawood
Permawood is made up of a timber core with a synthetic (ABS) water resistant surface. As a result, our experts recommend using Permawood in bathrooms or kitchens where humidity or water could cause warping. Shutters made from Permawood are incredibly long lasting and durable, coupled with their range of finishes it is no wonder why they are so popular!
To learn more about Permawood, please click here.
Pearlwood
Pearlwood is a luxury hardwood that benefits from being exceptionally lightweight. As a result, Pearlwood will be suitable for almost any window! Shutters made from Pearlwood are seen as a luxury option, this is as a result of the uniform knot free appearance. This material is available in a variety of finishes, including paints from Dulux and Farrow & Ball.
To learn more about Pearlwood, please click here.
Lockwood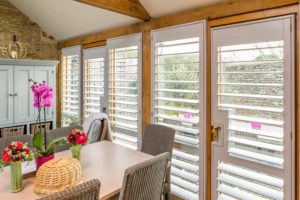 Lockwood is a sustainable material which is on trend with a natural wood appearance. This material is available in many different finishes, including the option to build a bespoke finish alongside your fitter.
To learn more about Lockwood, please click here.
Contact Just Shutters
Call our dedicated team of experts on 01202 240769 to discuss the options for shutters in your home. Alternatively, use the buttons below to download a brochure or book your home design visit.
Our experts strive to ensure you will be fully satisfied with the service you receive. Therefore, we are delighted to have been awarded a 9.9/10 rating on Checkatrade. This rating is a result of 1700+ independent reviews from our customers – click here to visit our profile.