White Plantation Shutters by Just Shutters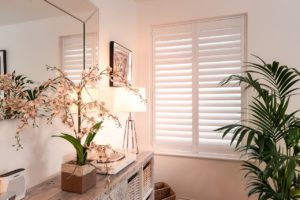 White plantation shutters make for a stylish addition to any home. Regardless of whether your shutters are made from solid hard wood or a high quality MDF, a white finish provides a clean and fresh look. Just Shutters are the UK's leading independent shutter experts, contact us on 0345 894 0700 or alternatively use the buttons below.
On trend shutters
White plantation shutters have been a favourite of interior designers in recent years. As a result, they have become an on trend feature in many homes. Finishing shutters in a white paint or stain has several benefits for your interiors, such as:
-Light: A white finish creates a bright and airy feel in a room.
-Illusion of space: White shutters give the illusion of a bigger space. Coupled with interior design tricks such as the use of mirrors can make a small room feel much bigger!
-Clean and crisp: A white finish is clean and crisp, a contemporary plus point.
-Complimentary: White goes with almost every colour. As a result, white window shutters will beautifully compliment your interior colour scheme – remaining a stand out feature without stealing focus.
Furthermore, shutters in general boast many benefits! Of course shutters are stunning and are sure to make your home the envy of the street. However, there is more than meets the eye with shutters. Shutters are incredibly practical, boasting features such as; child safety, ease of cleaning and reduction of allergens. Read more about the benefits of shutters, as voted by our customers, by clicking here.
Contemporary or traditional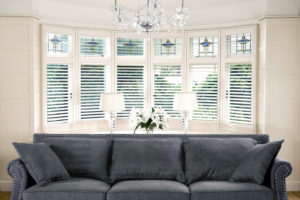 White window shutters are commonly associated with contemporary design. This is as a result of the minimalist and crisp appearance of white. However, if you are a fan of traditional design white can still be a fantastic option. Having a white finish on a natural wood frame will not only add authenticity to a tradition interior, but also add valuable light to the room.
Start your Just Shutters journey
All of the Just Shutters team believe that every customer they encounter should be fully satisfied with the service they receive. Therefore, we are thrilled with the 9.9/10 rating we have been awarded on Checkatrade. Start your Just Shutters journey by calling us on 0345 894 0700 or alternatively visit our contact page.