Just Shutters Wiltshire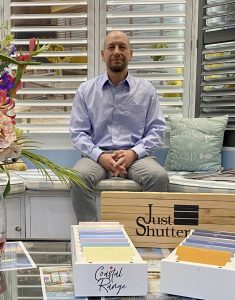 Ancient, mysterious, beautiful, a place apart: this is Wiltshire, a county that's inspired myth and legend for generations across its vast plains, its ancient towns, and out-of-the-way villages.
With all this in mind, Gareth Foulston carries our mission with serious responsibility: to bring beautiful plantation shutters to Wiltshire that only enhance an area where architectural beauty is taken very seriously.
Just Shutters has been trading in Wiltshire for many years, and we have now spread out to evenly cover the entire county. The aim of what we do here is simple: to create finely crafted shutters that are perfect for their environment, backed by a reputation for exceptional customer service. So, our lifetime guarantee is something we provide with confidence, and independent proof of our quality service is obvious when you read the hundreds of satisfied customers who rate us highly on Checkatrade.
Why choose Just Shutters in Wiltshire?
For a traditional as much as for a modern home, we already offer the perfect look for you in our thoughtfully planned ranges. From there we are able to custom-create shutters, so they are a beautiful and accurate fit with your windows.
When we plan them together, we will be anticipating your questions. Will they match the ambience of the room? Will they be functional as well as stylish? And, of course, will you love the quality and intangible 'feel' they give? We know they will on all counts, as well as being super-practical and giving lasting value.
The practical benefits of shutters
Energy saving
Added financial value
Reduction in allergines
Made to your exact specifications
Increased security and privacy
Low maintenance
Perfect for light and shade control
Lasting quality for many years ahaead
Child Safe
WHY CHOOSE JUST SHUTTERS?
Just Shutters has grown from a small family business in Dorset to a nationally recognised brand. That didn't happen overnight, but our steady growth has been accompanied by an excellent reputation for build and service; putting that in place means many of our new customers search us out after word-of-mouth. That makes us incredibly proud of what we do.
Just Shutters covers a large proportion of the UK, usually in sought-after locations where well-established properties are treated with reverence and architectural sympathy. Likewise, for many we have become an 'old-fashioned' local business where ethics matter.
CONTACT US TODAY FOR PLANTATION SHUTTERS IN WILTSHIRE
Please contact our friendly team today for information on the finest plantation shutters available in Wiltshire. You are welcome to call us directly on 01722 440 714 or follow the links above. In return, we will be delighted to show you how we've earned our unrivalled reputation.