Add Style and Elegance to your Home
Winchester, what a beautiful city to live in with its historical architecture and a famous Cathedral that even has had a song written about it!  If you live in the centre, it must be great to look out of your windows and view all that history around you. And the surrounding areas are equally beautiful and founded in history.
Just Shutters are proud to supply homes of Winchester with Plantation Shutters. Whether your property is steeped in history or a modern town house, Shutters are the finishing touch to your home, adding an extra touch of style and elegance. Just Shutters are tailor-made to securely fit any style window, including angled, arched and round windows, even the intricacies of glass roofs and conservatories.
Plantation Shutters will enhance your view of the outside world, allowing enough visibility and light without compromising privacy or security. Practical and functional, Shutters are low maintenance, hypoallergenic and easy to operate. No unsightly and hazardous chords. Add Elegance and style to your home, add Plantation Shutters.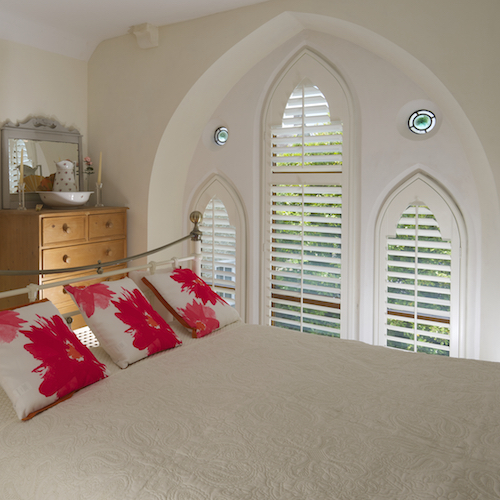 Just Shutters – A Company To Trust
A family company, established in 2006, Just Shutters has grown into a larger company with a big heart, gaining a first-class reputation in providing expert service, product and care to our customers over the past decade. Even as our company has grown, we now supply beautiful Shutters to homes across England & North Wales, we have kept our small local business ethics, yet we now have the advantage of the buying power of a much larger company, therefore we can pass the reliability of the largest factory in the world and savings on to you. We are so confident in our product and expert fitting that our Shutters come with a lifetime guarantee.
Meet Your Winchester Shutter Expert
We are extremely proud to maintain a local business to our customers. Your Winchester Just Shutters expert is Ben Chick. Ben Joined Just Shutters for that very reason as he has a strong customer service background working in financial service, therefore he is happiest working closely with his customers to achieve their aims.
Fully trained by Just Shutters, Ben has achieved expert status with Plantation Shutters. Ben will guide you carefully through the process of selecting the right Shutters for your home and ensure they are expertly fitted. Call Ben now on 01962 670 157 or take a look at our stunning selection of Shutters by downloading our brochure.