Being an historic town in Cornwall, Bodmin is surrounded by picturesque scenery and beautiful buildings. For homeowners in the area, you have an opportunity to create stunning designs within your properties. To complete the look, incorporate some of our fantastic products from Just Shutters.
Your local expert Andrew Cook is just around the corner, and he can help you choose bespoke shutters that match your home's aesthetics. We boast the largest range of styles and finishes, so take full advantage of our high quality products! For more information about our fantastic services, give us a call on 01637 808 397.
Just Shutters – The Home of Window Shutters in Bodmin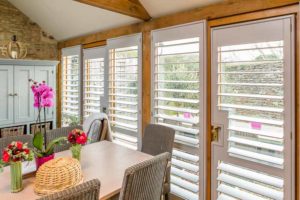 For many people, shutters and window dressing tends to be an afterthought, but have you noticed the difference shutters can make when they're installed? A room can be transformed with the addition of shutters, and not just from an aesthetics point of view. One of the main elements of shutters is the ability to control the amount of light that floods into the room.
Here in Bodmin, we have local expert Andrew, who offers a personable service like no other. Just Shutters are a major company, but we don't adopt the stuffy corporate attitude. In fact, we are quite the opposite! We aim to strike up one-to-one relationships with our customers so that they feel comfortable and have our full attention.
We want you to come to Just Shutters every time you need a new product or installation, which is why we invest heavily in ensuring our customer service is top-notch. In addition to this, we want our customers to have the best, so you should only expect shutters made from the highest quality materials.
A Vast Selection of Styles and Finishes
Every home and property is different, not just structurally but aesthetically as well. Many customers want shutters that will reflect the style of their home and match the decor. Others want their plantation shutters to be statement pieces; vibrant and eye-catching! Whatever your choice, Bodmin residents, we will make sure that your products are manufactured to meet your specific requirements.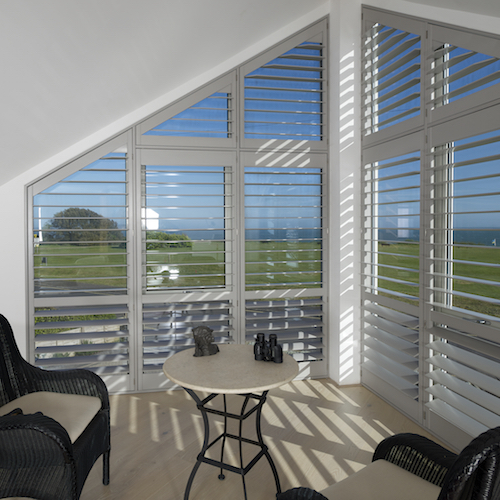 When it comes to style, the options are endless, with our Just Shutters team being well versed in all types for all kinds of homes. By choosing our company, you will be able to select from the following styles:
Full Height
Tier on Tier
Cafe Style
Tracked
Solid
And More!
We also boast our own exclusive range of shutters that you cannot purchase anywhere else. By having our own line, we stand out above our crowd of competitors. With this in mind, there is no need for you to consider another company for shutters.
The Many Benefits of Shutters
We have spoken plenty about the aesthetic properties of shutters, but what about the practical ones? As well as being able to filter light through to a room, they also provide maximum privacy from the outside world. So, during the day, you can make the most of the sunshine and when the night draws in, you can close the shutters accordingly.
The cost of your energy bills could also drop slightly as shutters reduce heat loss, so you may not need to switch the heating on as often when it gets colder. Also, due to the durable and hard-wearing material, your new shutters won't gather dust and mildew, therefore helping allergy sufferers.
Why Just Shutters?
Quality is our main selling point as we provide products as well as services. Here at Just Shutters, we are proud to be the UK's largest independent shutter company, becoming the number one choice for customers across the country. The collection we stock is incredibly vast, so you are bound to find a style and finish that meets your preferences entirely.
From the initial site visit through to installation, our services are comprehensive and carried out meticulously, with no member of staff missing a beat. Excellence is the minimum requirement for us, and many of our customers would attest to the fine work we do. In fact, we have earned impressive reviews on Checkatrade, which has resulted in us achieving a high score. 
Contact Us Today
Our professionals continue to strive for more so that customers get the best overall experience. If you would like to arrange a site visit or discuss our range of shutters, call 01637 808 397.