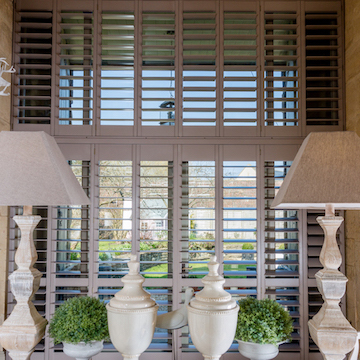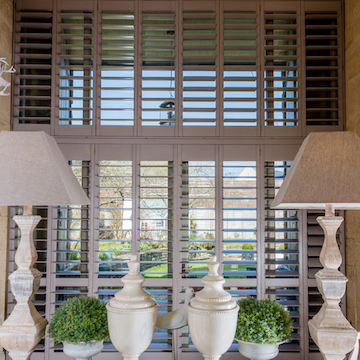 Farnborough – The Most Beautiful Plantation Shutters From Just Shutters
Once you have fitted Plantation Shutters you will never choose another window dressing, it will be one of the best design decisions you will make for your home. Stunning inside and out, they add a whole new dimension to your windows, envied and coveted by your friends and neighbours.
Plantation Shutters however are not just elegant and beautiful, they are completely functional and practical. Shutters have the advantage over other window dressings as they allow as much or little light into your rooms, whilst still affording you optimum privacy and with the added bonus of extra security. Helping to keep the heat in and the cold out, you may notice a distinct difference to the temperature of your rooms. If you live by a noisy road, they also help with noise reduction.
Once expertly fitted, Shutters are maintenance free, easy to clean and completely hypoallergenic, so much better than dusty curtains or venetian blinds, there are no annoying and hazardous strings on Shutters!
Choosing Your Shutters
Just Shutters are a family company, originally established in 2006. We are specialists of Plantation Shutters, using the highest quality materials, yet still maintaining an affordable price. You can be assured you are in safe hands with Just Shutters. In fact, we are so completely confident of our Shutters and expert fitting, we offer a lifetime guarantee.
At Just Shutters we offer a variety of louvre options, colours and styles to fit any size or shape window and our expert design consultants will ensure you achieve the perfect design solution for your home.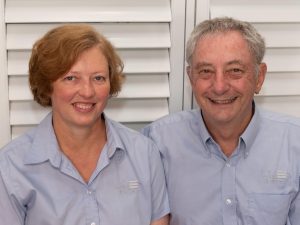 Your Farnborough Consultants
Call Emile & Penny today on 0118 9070 102 or request a Brochure for the very best Shutters in Thames Valley including Newbury, Reading, Wokingham, Bracknell and Basingstoke.