WINDOW SHUTTERS THAME – CALL 01235 424282 
Window shutters Thame, by Just Shutters, your local shutter experts. James and Charlotte Chenery are your local husband and wife team (pictured right). We are delighted to offer the beautiful market town of Thame, along with Morton and the surrounding areas, our beautiful Plantation Shutters. We have the finest range, quality and service, complete with Just Shutters market leading lifetime guarantee.
Window shutters Thame EXPERTS
We have and absolute passion for plantation shutters and making the very most of them to enhance your personal style and space. A local expert with an eye for detail, we will be with you on every step of your Just Shutters journey. We will ensure you get the very most from your windows, doors, views and the natural light in your home through our stunning range of shutters.
WHY CHOOSE PLANTATION SHUTTERS?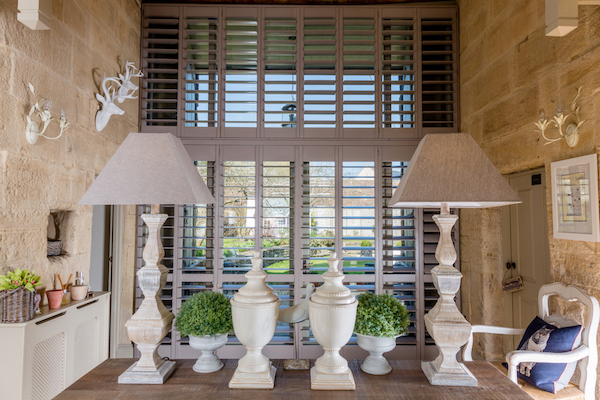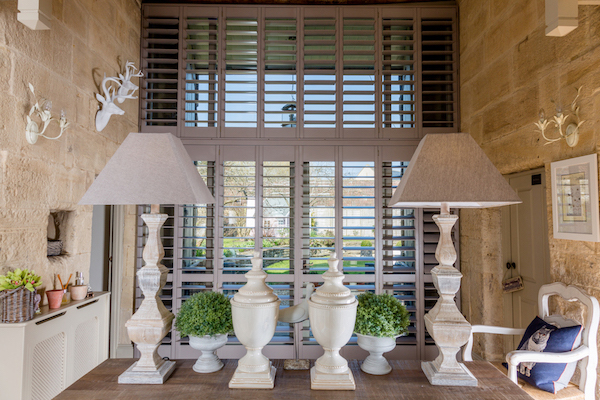 It is clear to see that most people opt for shutters in their homes because of their beautiful looks and elegant, timeless style. However, there are so many additional reasons why people opt for stunning shutters. And with the range of benefits listed below it is clear to see why shutters are the fastest growing window covering on the market;
– Shutters are child safe with no hanging pull cords.
– They require no laundering (let's not mention net curtains!)
– Shutters are bespoke, so fit perfectly any shaped, angled, arched or bay windows without encroaching on the room.
– They offer privacy while allowing you to see out (again let's not mention nets!)
– Shutters give an unsurpassed range of light and shade solutions.
– They can save money on energy bills as they are energy efficient.
– Shutters keep your home a sanctuary as they aid noise reduction.
– They do not bleach, fade or warp with the sun.
– Shutters can add value to your home as they add curb appeal and sold as a fixture.
– Shutters also last and last – and with our Just Shutters lifetime guarantee you can be sure we put our money where our mouth is!
So, while people fall in love and stay in love with shutters for many reasons! We find that the overwhelming majority fall for their stunning good looks. The light and space, the clean and crisp lines that add to the elegance and style of a room are certainly undeniable.
WHY CHOOSE JUST SHUTTERS THAME?
We quite simply are the shutter experts. Our customers are at the heart of all we do and we believe in giving exceptional quality and service every time guaranteed!
If you would like to know more please call us on 01235 424282 or follow the links below.
With a checkatrade rating of 9.9/10 from over 1500 reviews, our customers are our perfect mouthpiece. Here are just a few things they have to say about us:
Fitted shutters to 4 windows
"The shutters arrived on time they were fitted exceptionally well. The quality of workmanship was top notch, very friendly and efficient service."
10/10
Plantation shutters fitted to large gable end windows.
"Efficient service, friendly people. Mo problems or hassles."
10/10
Window Shutters Thame.
"Really helpful with all the options and what would be best for my home. Quick, tidy, clean and friendly installation."
10/10
Installation of shutters throughout the property.
"Fast, friendly and professional- highly recommend."
Shutters installed throughout house.
"Absolutely fantastic – right from first visit to installation. The Shutters are amazing and make such a massive difference to the house. I was concerned about the impact on light into the house, I couldn't have been more wrong! The house is lighter, brighter and more space in rooms than before. The attention to detail and professional finish was impeccable and the work was complete to a very high standard. Only wish we'd had shutters installed sooner!"
10/10
Shutters fitted in 4 rooms. Plantation Shutters Thame.
"I could not have wished for a better service, polite professional great value amazing finish, I could not be happier."
10/10
You may also like to see: Shutters Oxfordshire, Shutters Oxford, Shutters Bicester, Shutters Wantage or Shutters Wallingford.