Interior window shutters, a stunning design statement!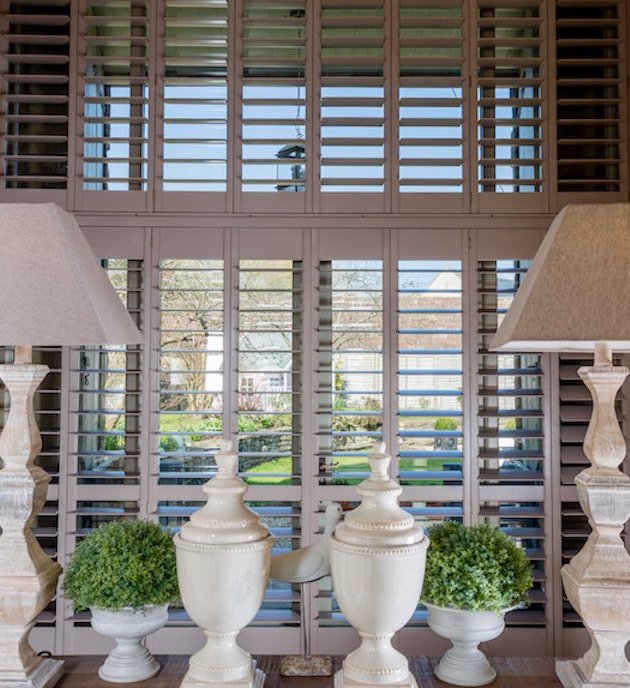 We at Just Shutters have been designing and installing the finest plantation shutters for many years. And we are thrilled to say that their popularity is growing and growing! It is easy to see why. Interior designers and discerning home owners the world over are incorporating window shutters in their designs with striking effect.
In this post we explore some window shutter inspiration from our own installations and from interior designers around the web. Please click on the images and links to find out more about Just Shutters, our products and unbeatable service. Also, don't forget if you like what you see, call us on 0345 894 0700 to find out what we can do for you. Furthermore, you can download a brochure for more inspiration…
Striking white interior shutters – both modern and traditional
When we think of white window shutters we think modern, crisp and bright; which is all very true! But feast your eyes upon these images and see how we at Just Shutters, and other interior designers, have used beautiful white shutters to make design statements in both modern and traditional rooms.
Bringing the Outside In
Modern white window shutters in a contemporary dining room, by Just Shutters Hertfordshire. These beautiful shutters bring the outside in and open up this bright clean dining area. The plants give the feeling of one continuous space with the nature beyond.
That Seaside Feeling
These stunning shutters are just perfect for making the most of a sea view. The design on the left is by Ralph Lauren interiors, you can see the Just Shutters Bournemouth installation on the right uses a similar bright, large louver that enhances the seaside light.
Shutters are perfect in any room, but what better way to make sure you get a great rest than to have sumptuous shutters in your bedroom. These designs show how white (and off-white) shutters can create a peaceful and stylish atmosphere in your most restful room. Pictures 2 and 4 are Just Shutters installations, the others are taken from our inspiration board on Pinterest please find us there to see the original images and their owners –Shutters on Pinterest.
Brilliant Bathrooms – Window Shutters are perfect in humid environments!
Bathroom windows can be a problem to cover, curtains and nets are a no-no as fabrics simply cannot withstand the humidity, blinds too can warp and mildew if not properly treated and maintained. Shutters on the other hand are superb in this environment.  We design special permawood shutters that are made for bathrooms and kitchens that have a high humidity level. So, if you want the privacy and light control shutters can give, with the benefit of a long-lasting, low maintenance solution, then shutters are for you – and did we mention they are beautiful? Well, see for yourself (first image installed by Just Shutters Dorset – to see more bathroom shutters by Just Shutters follow the link – bathroom shutters, second image taken from New England Homes Mag please see Just Shutters on Pinterest for this and our other two images in the set):
Not Just White
Of course shutters come in a range of colours, styles, finishes and styles to suit any home, so we thought we would finish our show of window shutters with a few that we like to call 'A Splash of Colour' see more in our coloured shutters gallery – all of the below shutters are our own work…
We hope you have enjoyed browsing some wonderful window shutter ideas. Please remember shutters are perfect for doors, room dividers and wardrobe and closets also. You may like to see shutters for bay windows, shutter materials, how much do shutters cost? And of course shutter price calculator. Just Shutters have an outstanding reputation and would love to welcome you among our many thousand satisfied customers. Please call us to find out what we can do for your home on 0345 894 0700 – or download a brochure for more inspiration…