Wood Window Shutters by Just Shutters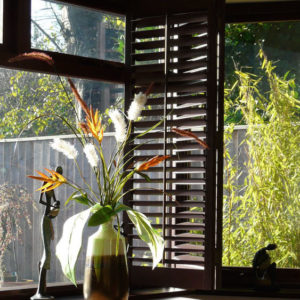 Wood window shutters have been a favourite of homeowners, interior designers and commercial property owners alike for many years – and it is not hard to see why!
Perfect for any home, wood window shutters combine style with practicality
The benefits of choosing wood window shutters
Wood window shutters boast a variety of benefits. Aside from their stunning looks, shutters are incredibly practical. This practicality comes as a result of a variety of features. Features such as:
-Child friendly: Shutters are entirely child safe. As a result, shutters are perfect for busy family homes.
-Durable: shutters are built to last! Therefore, we offer a lifetime guarantee.
-Ease of cleaning: Shutters only require a wipe with a cloth to clean them. Additionally, when compared to curtains and blinds, shutters hold much less dust and spores.
Furthermore, as all of our products are made to measure you can rest assured that your shutters will make for a perfectly fitting unique interior.
Our extensive range
We stock the UK's largest independent range of wood window shutters – including our own exclusive ranges you won't find anywhere else! Ranges such as:
–Coralwood: A beautiful solid hard wood in a MDF frame combined with the affordability of a MDF frame.
–Pearlwood: Luxurious lightweight hard wood. Available in a range of finishes and stains.
–Lockwood: A sustainable hardwood ideally suited to the stylish natural wood trend.
Plus many more!
The Just Shutters difference
Customer service excellence is a key value here at Just Shutters. It is our firm belief that every customer we come into contact with, from initial consultation to fitting, should be fully satisfied with the service they receive. Therefore, it is with great pride that we can say we have been awarded a 9.9/10 rating on Checkatrade! This incredible rating comes as a result of over 1800 reviews from our delighted customers.
We would love you to join our many delighted customers – so start your Just Shutters journey today! Call us on 0345 894 0700, visit our contact page or alternatively use the buttons below.