Café style shutters – interior shutter styles
Café style shutters (also known as half-height) are perfect for creating a beautiful design impact, allowing complete privacy and offering maximum light to flood through. Only covering the bottom section of the window, café style shutters offer the benefits of full length shutters but with the added element of leaving the top section of the window completely bare, for a light, bright spacious look.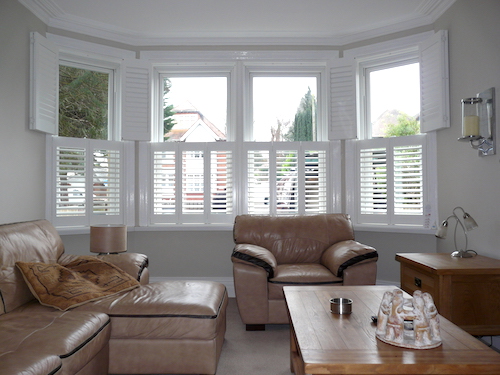 Many people opt for café style because it is the perfect solution for adding privacy, however many also opt for these stylish shutters as they give the perfect continental design touch to a room.
As you can see from the images below, the café style shutter is perfect for any room however it is often opted for in a ground floor setting to stop prying eyes. In a kitchen or dining area they can add charm, reminiscent of a French bistro, while in the bathroom they can shield you from view. They are damp proof and will not warp or distort in a moist environment. In a bedroom you could couple them with drapes (see image 1 below) for night-time cosiness, whilst offering privacy and light during the day.
As with all our styles of shutter we can offer a variety of materials and finishes and pride ourselves on our extensive range to ensure whatever your home and your lifestyle we can match your shutters to you!