Plantation shutter images: pictures of our stunning interior window and door shutters
Please browse our extensive shutter galleries, view installations we have completed, and be inspired as to what we could achieve in your home. Just Shutters has successfully installed beautiful plantation shutters into the homes and businesses of over 7000 satisfied customers.
We have installed shutters to every size and shape window, door, conservatory, Velux, roof, wardrobe, bar, room divide, space and area you can possibly imagine, and have achieved some very striking and unusual looks in our customers' properties.
You may want to view at our beautiful traditional look fittings, the perfect bay window designs, or browse our colourful or unusually shaped installations. Whatever look you are after, we have a gallery of stunning plantation shutter images showing you why Just Shutters are the experts!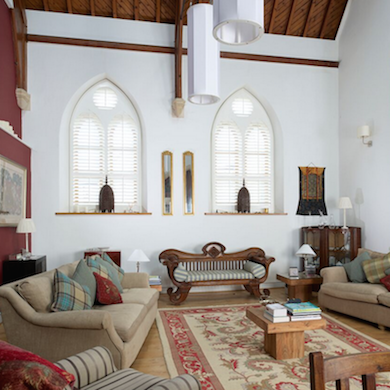 Why shutters?
Interior window shutters can be used not only to achieve different looks and styles to fit any decor, but they are also the perfect window covering in each and every room, for a variety of reasons.
Bedroom
As our window shutter images above will show you, they are perfect for the bedroom – creating privacy, security and a peaceful ambience – also closing to 98% blackout (different options are available to achieve 100% blackout, just ask).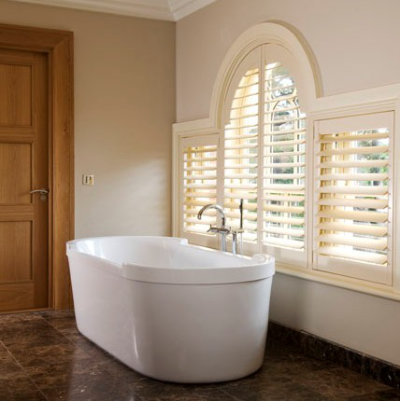 Bathroom and kitchen
Interior shutters are the window covering of choice when it comes to a humid environment: they do not damage, bend or warp; they do not mould or mildew; shutters are wipe clean; and simply cannot be beaten as a choice in these steamy rooms.
Conservatory
Conservatory shutters look beautiful! This is the reason why most people choose shutters for their conservatory, but the fact that no other window covering can achieve the results in the spaces and challenging angles posed by conservatories really does make shutters not only the designer choice, but the practical choice also.
Hotels, cafes, offices, schools, hospitals and other commercial buildings
Shutters offer a hygienic, safe and practical solution in any business property. Browse our commercial shutter gallery to see why many businesses and organisations are opting for internal window and door shutters in their establishment.
Of course shutters are ideal for any room within the home or business, and are simply perfect for bay windows. Please browse our shutter pictures above, request/download a free brochure, or book an appointment to see what Just Shutters can do for your home or place of work.