Call us now: 01202 240769
Just Shutters the home of Plantation Shutters
Welcome to Just Shutters, the plantation shutter specialists. With over 30 years of experience in interior shutters, we are experts in the field. Stunning plantation shutters are all we do; they are our specialism and our passion.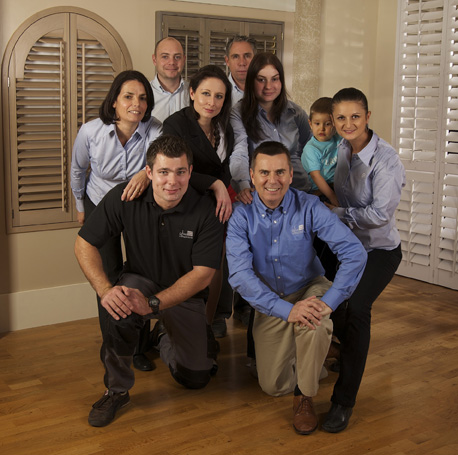 Founded in 2006, Just Shutters has quickly grown, gaining along the way an unrivalled reputation for quality and service. Understanding your house is your home is at the very heart of our thinking, from design consultation that focuses on your style and needs, through to fitting where we ensure your house is not treated like a building site! And of course for years to come as you admire the practicality and style of your beautiful shutters - all the while confident in the knowledge every set of shutters comes with the Just Shutters lifetime guarantee.
Having established our roots in the sunny county of Dorset, we have grown with our customers as our reputation and service has proceeded us, leading us into areas far and wide, each expansion keeping true to the heart of the personal touch we have always provided since our conception. We now provide our service across much of the UK; from Cornwall and Devon, Dorset, Hampshire and Kent in the South, up through Hertfordshire, Cambridgeshire and Wiltshire, we now even provide beautiful interior shutters in Cheshire and South Manchester. Just Shutters specialists in each area work to ensure every customer gets the very best from their shutters. Please click here to see the full area we cover.
Just Shutters offers the complete range of both solid wooden shutters and louvred plantation shutters for all window shapes. Everything we offer is bespoke, but you can get a good indication of cost with our transparent and easy to use shutter price calculator. Our custom shutters are available in all shapes and sizes; including round, angled, arched and the interesting shapes needed for conservatories and glass roofs. Our Plantation Shutters, sometimes mistakenly called shutter blinds, are made to measure with very wide colour and design choices from the highest quality materials and then professionally installed by our experienced staff.
For more information on our Plantation Shutters, Plantation Blinds and Wooden Shutters for home and for commercial properties, please call us on 0845 894 0700.
But don't just take our word for it:
Many of our 6000+ satisfied customers have reviewed us on-line and we are proud to say that we have a Check-a-trade score of 9.9 while continuously working towards the 10!
Installed plantation shutters to large bay window and bedroom.
A very professional service . I can't fault them . They were meticulously clean and courteous , to a very high standard of workmanship , all at reasonable price .
Customer in Christchurch
Supply and installation of shutters on a dorma window.
Excellent service from initial contact to final installation. Perfect.
Customer in Teignmouth
Cafe style shutters installed in a kitchen bay window.
A very professional service. The same person completed the consultation, measurement and installation - really liked the personal touch.
Customer in Dulverton
Conservatory shutters fitted to control the sun.
Amazing result and great service.



808 customer feedback reports with an average score of
9.9
Market Leading Service
We specialise in Plantation Shutters offering the widest range of materials, finishes, colours and extras in the UK. We have a reputation for attention to detail and value for money.