Tier on Tier Shutters Request a brochure
Call us: 0845 894 0700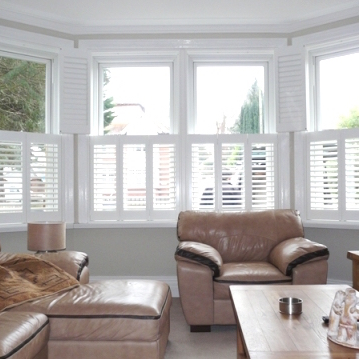 Tier on Tier
Tier on tier shutters give you added flexibility over full height shutters, as you can open or close each tier independently - perfect if you desire privacy (by closing the bottom tier) and bags of light (by allowing the top tier to remain open).

Tier on tier shutters are just beautiful in your home and practical in an office or other business environment. Shutters are simply the best window covering at combining both luxury style with practicality.

Unlike blinds or curtains shutters require little maintenance, they are extremely hard wearing and they look great! Just look at these beautiful bay window shutters.

If these features are not enough to persuade you then these extra benefits will give you food for thought when gazing upon our tier-on-tier shutter gallery above...
Shutters offer such an array of benefits, such as
:
• Privacy
• Security
• Light flexibility
• Fantastic ambiance and style
• Practicality
• Safety - no chords or fabric
• Added value to your property
• Lifetime guarantee


Choosing the shutter specialists
Just Shutters have the broadest selection of shutters, colours and materials, all made to your exact specifications. We have unsurpassed quality and service, so please do give us a call to see how we can help you 0845 894 0700 or follow the buttons below:

Tier on Tier Shutters - customer testimonials
"Just Shutters were professional and friendly. The bedroom shutters look beautiful, I would highly recommend them and hope to have more shutters fitted!" 10/10
Excellent workmanship on fitting shutters.
"The fitters arrived on time and carried out work with excellent workmanship and very clean and tidy finish." 10/10

Additional shutters in front bay window.
"Excellent service from the office, original survey and final installation - very clean operation of bathroom shutters." 10/10