Are you looking to improve your home or business with an eye-catching set of bay window shutters in Bristol? If so, give Just Shutters a call today on 0345 894 0700, as we provide a fantastic selection of options with various customisable features available. With our impressive range of quality products, you're sure to find a set of shutters that's well-suited to your requirements. Start a dialogue today by getting in touch with the shutter experts.
Quality Bay Window Shutters Bristol Property Owners Will Love
Bay windows are a glorious feature as they provide the means to let light flood into the room, leaving the interiors feeling brighter and more spacious. Brighter interiors create positive vibes throughout, having an uplifting effect on your mood, while eliminating the need to have lights switched on during the day. By their very nature, however, bay windows also compromise your privacy. The solution? Bay window shutters in Bristol supplied by Just Shutters.
The benefit of bay windows is also the drawback. When you want increased light levels, bay windows are an excellent way of accomplishing this. But let's say you're trying to watch a movie; suddenly, that extra light isn't such a great thing. Bristol, bay window shutters provide you with complete control of the light that filters in, but they also do more than this. Because of the extra glass panes, privacy becomes a factor too.
Again, you can have complete control over the privacy levels in your home or commercial property by installing a set of bay window shutters in Bristol. In fact, shutters let you enjoy all the benefits of bay windows without any of the drawbacks. To learn more, continue reading or give us a call today on 0345 894 0700.
Proud to Supply Bristol Bay Window Shutters of the Highest Quality
Here at Just Shutters, we supply an excellent selection of bay window shutters in Bristol. It all starts with a phone call, and from there, our team will work with you to find the right shutters for your home or commercial property. We can provide you with a design visit and consultation that includes a complete measuring service too. We offer a wide range of customisable options, including: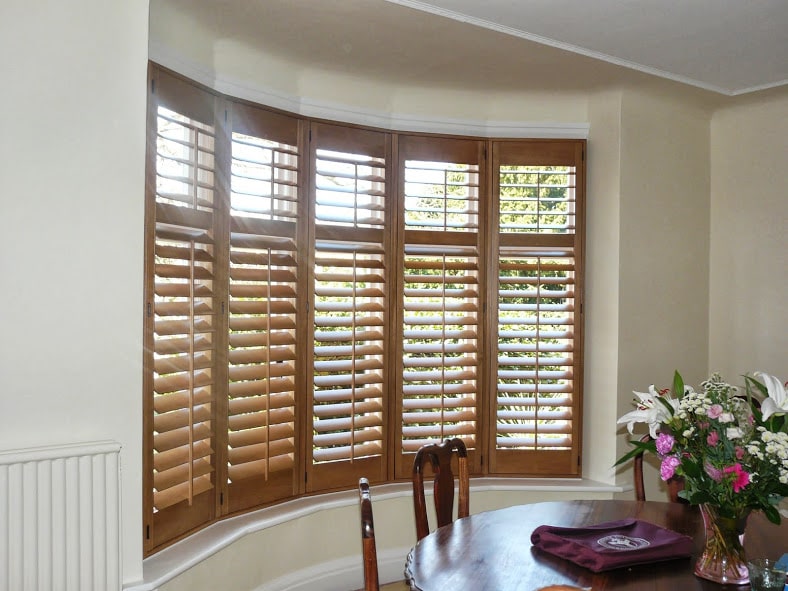 Materials
Colours
Shapes
Frames
Fixings
And More!
As well as supplying your new shutters, we can also install them too. It's all part of the impeccable service that we provide to our customers.
Coastal Range
Looking for something that is truly unique? Then look no further than the impressive Coastal range, exclusive to Just Shutters. Featuring eight stunning colours inspired by the British coastline, the Coastal range conjures fond memories of holidays taken during childhood. The very essence of these scenic locales has been captured, from the salty spray to the cool summer evening breeze.
When coupled with our customisable features, these make for some truly stunning bay window shutters. Bristol customers will be delighted to hear that they are made of premium, sustainable hardwood that sports wonderful natural textures. This ensures a build-quality that is eye-catching yet long-lasting too.
Why Choose Our Bay Window Shutters in Bristol?
At Just Shutters, we're proud of our status as one of the most respected independent shutter companies in the UK. We also happen to be one of the largest, boasting one of the most extensive ranges of bay window shutters, Bristol has to offer. Our reputation is one that simply cannot be beaten. When you approach Just Shutters, you can rest assured that you'll receive top-quality products, installed by our team of professionals.
Speaking of professionals, you won't find a more experienced or courteous team anywhere else. Our employees are all trained to a high standard and are passionate about providing our customers with first-class products. We strive for excellence in everything we do, including the supply of bay window shutters in Bristol.
For many years now, we've supplied Bristol bay window shutters that have defied expectations. But don't just take our word for it. Click on our Checkatrade profile and see what others have said about us.
Contact Us
Inquire about bay window shutters in Bristol today by calling Just Shutters on 0345 894 0700. Alternatively, you can email us at information@79.170.40.239 or fill out our online contact form.