The Plantation Shutter Experts – Meet the Just Shutters team
Our expert team at Just Shutters is here to ensure your satisfaction, from the very start of your relationship with us, all the way through the design and installation process, and long after. We are delighted to have an unrivalled reputation and pride ourselves on our satisfied and repeat customers, and of course those all-important word of mouth recommendations. Our customers are our business – we hope we can welcome you among them.
Just Shutters Dorset Business Support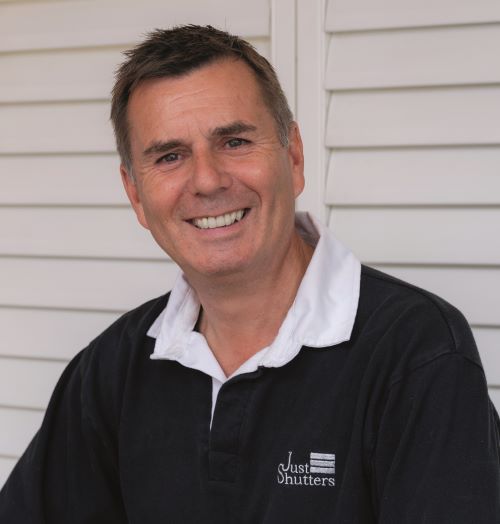 Chris Rocker – Founder
Chris Rocker founded Just Shutters in Bournemouth in 2006.

Chris says: 'We live and work in Bournemouth and luckily we are only about half a mile from the sea. I spent most of my school years here but moved away to join the Royal Air Force. In June 2000 I was offered, and accepted, a directorship of an AIM-listed company based in Oxfordshire. Although this was some distance away, Bournemouth was the natural place to return to and offered so much more than where we had been living. I feel that this area offers so much to us that it is difficult to envisage living anywhere else!

'In 2006 after having fallen in love with Plantation Shutters, a dream of starting a specialist company to meet the growing demand in the field was realised, Just Shutters was born. We have grown steadily and strongly over the past decade and now there is a Just Shutters franchisee covering over 150 towns and cities in the UK. I am passionate about what we offer, how we can provide the very best solution individually for all houses and with over 50% of our business coming from recommendations and additional orders I guess that our customers agree too.

'The vision and inspiration for Just Shutters was, is, and will always be to offer a beautiful product at great value with the best levels of customer service possible. I am delighted that we have been able to consistently do this; one of my measures of success is the feedback we receive from customers via Checkatrade.com.'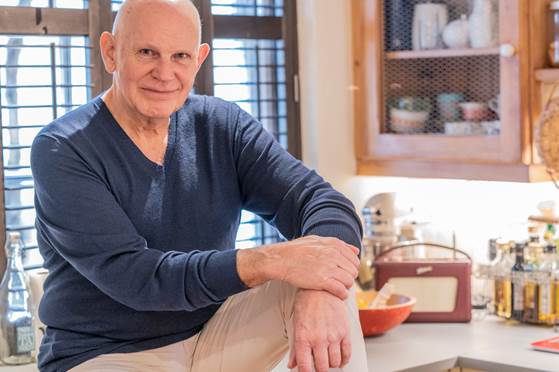 John Lewis - Non Executive Director
John says "I started my furniture and kitchen making company when I was 28 in 1972. I haven't made a load of money but have made thousands of people happy - employees and customers. I've got the satisfaction of influencing kitchen design all over the world and have had time to drive an old Hillman Hunter to Australia, indulge in an extraordinary artform, Pontjago.com and create a fascinating and unusual home for my family.

I'm passionate about marketing and believe that if it's a considered purchase, as opposed to an impulse buy, something has to touch a person's heart before they say YES. This applies whether it's a house, a kitchen, shutters or an aircraft carrier and the route to the heart is via at least three of the five human senses. These are of course what we hear, what we see, what we smell, what we taste and what we touch."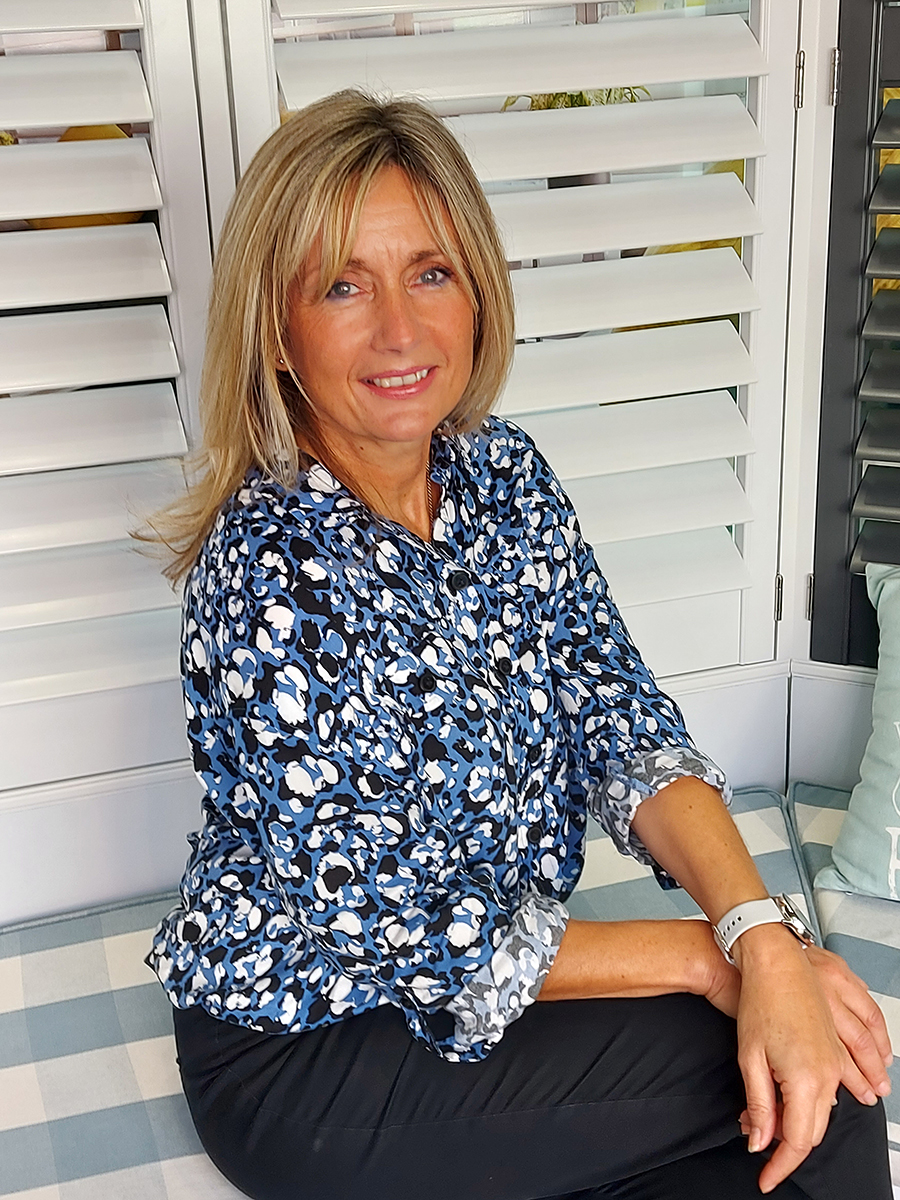 Sarah Clifford – Sales Manager Dorset
Sarah joined Just Shutters in July 2016 after moving from Hertfordshire to Bournemouth. Sarah ran a successful business before her move and was looking for a role that was dynamic and allowed her to put her great people skills to good use. However it was more than just good luck that Sarah came across Just Shutters, she was a customer first!

Sarah says; 'I wanted Shutters for our new home and found Just Shutters are the best! I had a great designer and Marcin fitted our Shutters. It is so lovely to now be working alongside them and being part of the great team helping other customers enjoy the fantastic experience I had when dealing with the company.'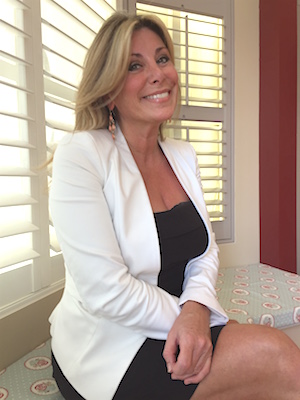 Livia Gusman - Marketing Manager
Livvy joined the Just Shutters family in 2016, coming from a corporate, advertising and luxury hospitality background. Having gained invaluable experience in her marketing and customer service roles with us, in 2021 Livvy was promoted to Marketing Manager. Her personable persona and energy are the perfect fit for this role.

Livvy says, "I am truly enthusiastic about our brand and I love working with such a dedicated and talented team that really care."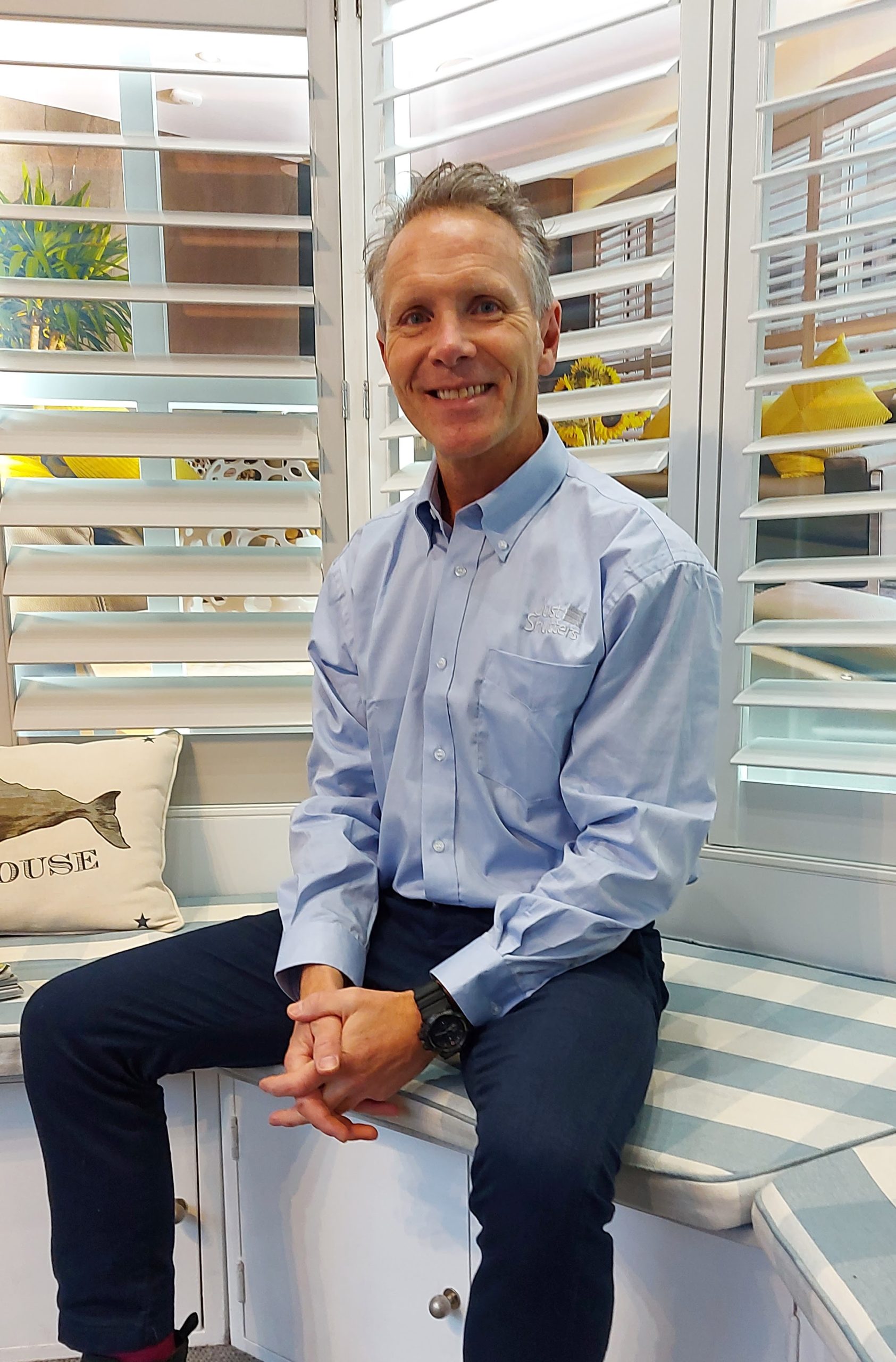 Des Day - Business Developer
Des joined Just Shutters in November 2021, bringing with him a wealth of experience in business development, administration, team management and mentoring. What resonated with Des the most were the core values the Just Shutters family offered, which aligned perfectly with his own ethos.

Having run a social enterprise business for many years and been an advisor at a senior board level, Des has a passion supporting the volunteer and non-profit sector. Especially the wellbeing of disadvantaged children from marginalised backgrounds.

In Des's spare time he coaches adults and children in sports and is also a keen musician, playing drums for local rock and blues bands.

Des's favourite quote:
"You are the product of your thoughts"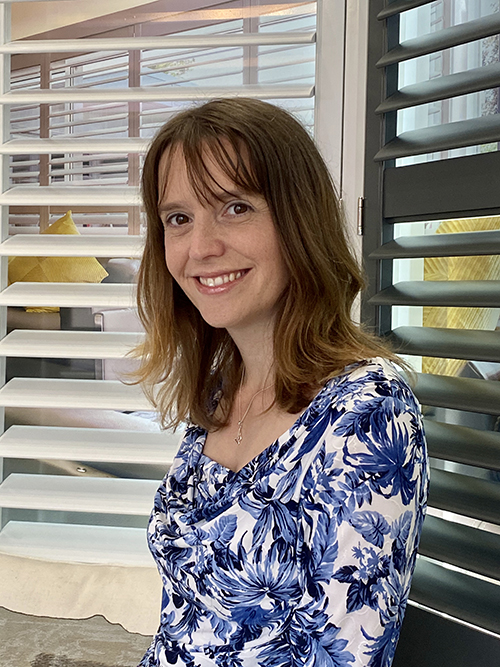 Amanda Warner - Bookkeeper
Amanda joined Just Shutters in September 2020 after moving to Bournemouth from the West Midlands. Prior to her move Amanda had worked for many years as a Finance Manager at a large university. Amanda had always dreamt of living by the coast and after temporarily relocating to Bournemouth on a career break from the University to finish writing her novel, she loved it so much that she decided to stay.

Amanda says; "I feel incredibly lucky to have joined Just Shutters and am delighted to be part of such a friendly and supportive team."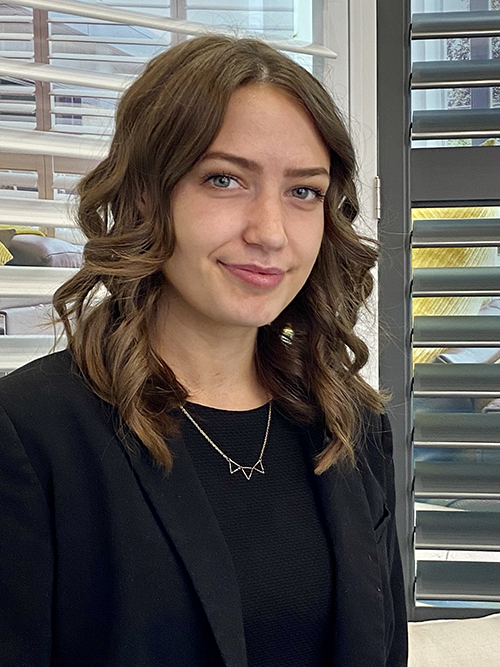 Emily Stevens - Installations Administrator
Emily joined Just Shutters in June 2020 having previous experience in working in Installations and scheduling.

Emily says that she loves being part of Just Shutters' dedicated team and that she was originally drawn to the role on hearing about our reputation and products.

Outside of work Emily enjoys spending time with her friends and family and she also enjoys photography.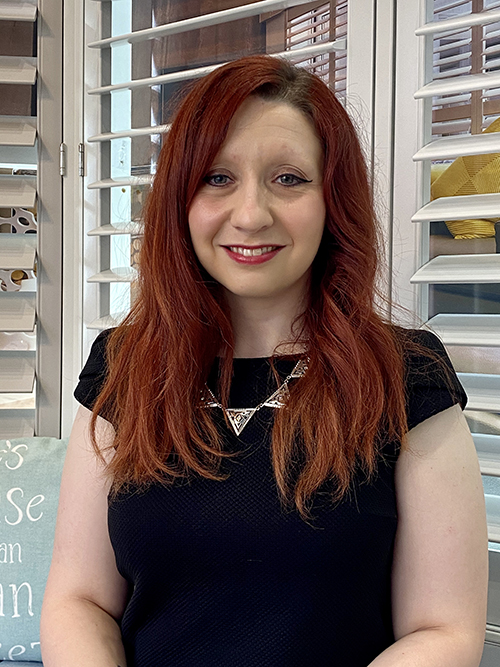 Lucy Waldron - Appointment Setter
Lucy joined Just Shutters in August 2020 after a successful 16 year career working in the retail management sector. Lucy was keen for a new challenge.

Lucy says; "Just Shutters core family values and excellent reputation really attracted me to the company. I am enjoying putting my customer service skills to a new use and love being part of an amazing team that is truly passionate about our product.

Having grown up in Bournemouth I would not want to live anywhere else. I enjoy outdoor pursuits and making the most of our beautiful area".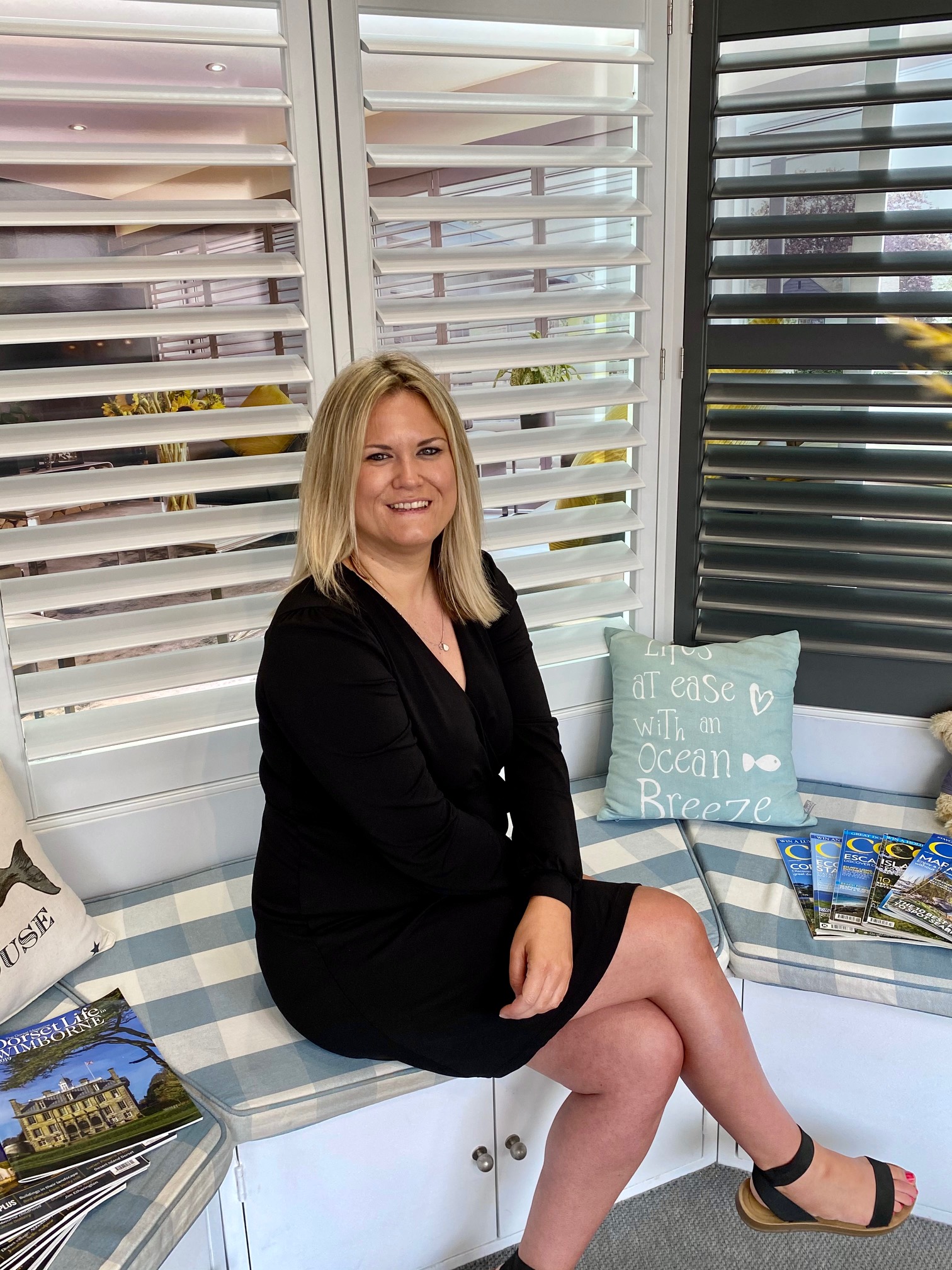 Charlotte Partington - Appointment Setter
Charlotte joined Just Shutters in March 2021, after a 17 year career in retail where she put her excellent skills to use specialising in customer facing roles.

Charlotte says; "I am thoroughly enjoying my role as appointment setter for this lovely, friendly company and in helping our customers on their shutters journey.

In my spare time I am a busy mum of 3 lovely children. I'm lucky enough to live 5 minutes away from the beautiful Bournemouth beaches where I spend as much time as possible".
Just Shutters Dorset Franchise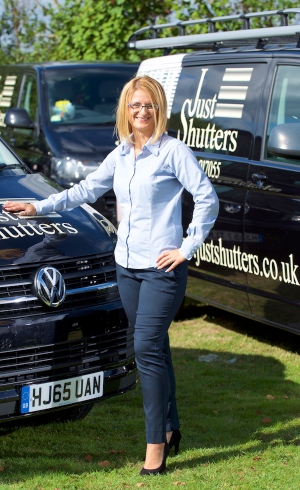 Kate Witucka – Shutter Designer
Kate started working for Just Shutters in 2007 and soon became Just Shutters' Master Fitter. Kate is now Just Shutters' Designer. Customers were delighted with her expert skill and feminine touch when installing in their homes.

"I was with Just Shutters as Master Fitter for over four years, but left in 2011 to start a family – we soon welcomed Igor into the world! When returning to work I was delighted to once again come back into the Just Shutters fold. I rejoined the team in late 2013 and became Just Shutters' Designer."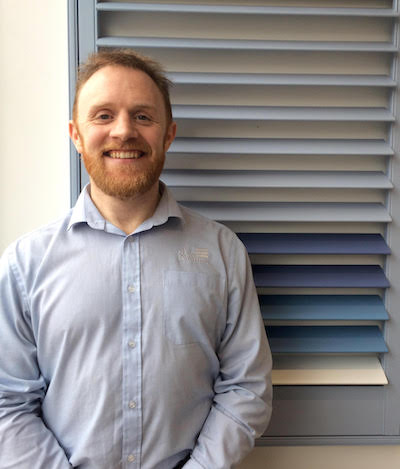 Gavin McGuiness - Shutter Designer
Gavin McGuiness joined Just Shutters in November 2016 as one of our expert Sales Designers, Gavin took to the job as if it were made for him. Having been in a customer facing role for 14 years with a large audio-visual company, Gavin has always had a passion for people and really enjoys meeting customers and helping find the very best solution for them. Gavin's other passion in life is music.

Gavin moved to the South Coast when his other half found a job in Poole Hospital, Gavin found us and has not looked back, he says: 'Working for Just Shutters, I have been helped by some of the best people I have ever worked with, a team of guys that are thoughtful and genuinely care about your day. My previous job in Ireland took me around the country to a lot of companies and I had built a rapport with a lot of customers but never felt as at home as I have here; which has made the move from Ireland to England a lot less daunting and pleasurable.'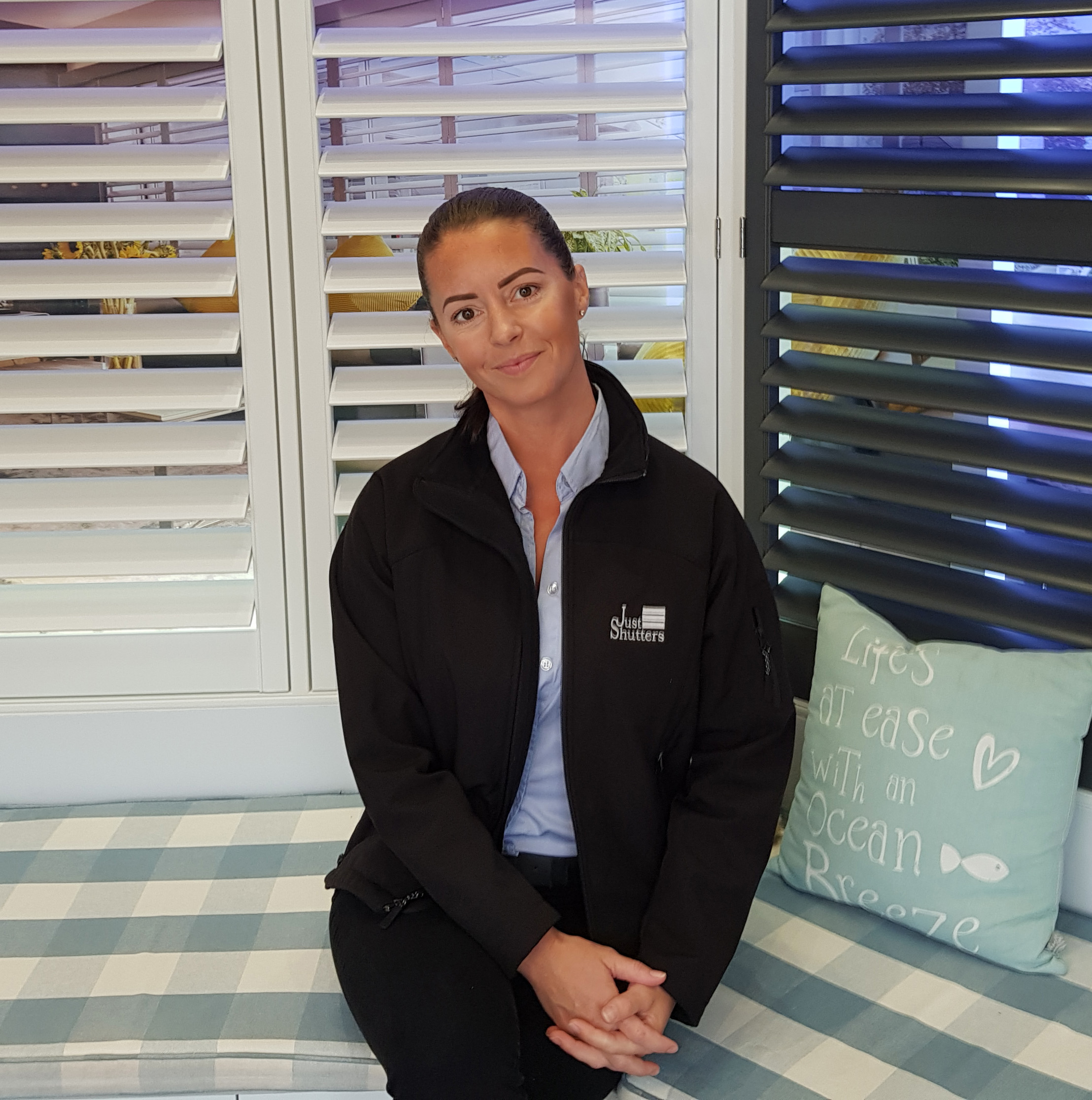 Elizabeth Lord - Shutter Designer
With a background in dance and performance, I have had a penchant for creative pursuits for as long as I can recall. Since starting my own family, I've found a passion for interior design and home building, which quickly developed into a direction I wanted to explore professionally.

Having worked within the retail sector and property sales; I discovered that I love interacting face to face with customers, and I wanted to find a career where this was the central part of the role.

Being able to design shutters for customers' homes is a real privilege. It perfectly combines my love of interior design and direct customer interaction every day.

Just Shutters is a company which allows me to realise my personal goals for my career, working alongside a team of dedicated, passionate individuals whose vision aligns with my own. I'm proud that we provide the best possible product to enhance the homes of our customers.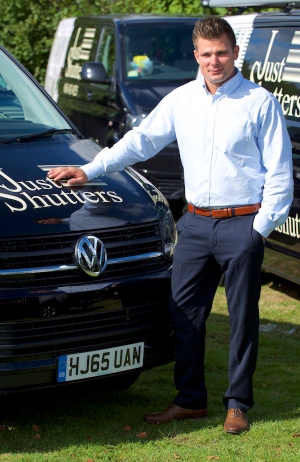 Marcin Rogaluk – Installations Manager
Marcin says, "I have worked for Just Shutters since 2008 and in that time I've built up extensive knowledge and experiences of all things related to plantation shutters. After all these years I haven't lost any passion for my job – if anything it's continued to increase!

"So whatever your needs may be, from a small bathroom window to the whole conservatory, I will be more than happy to assist you with your enquiry"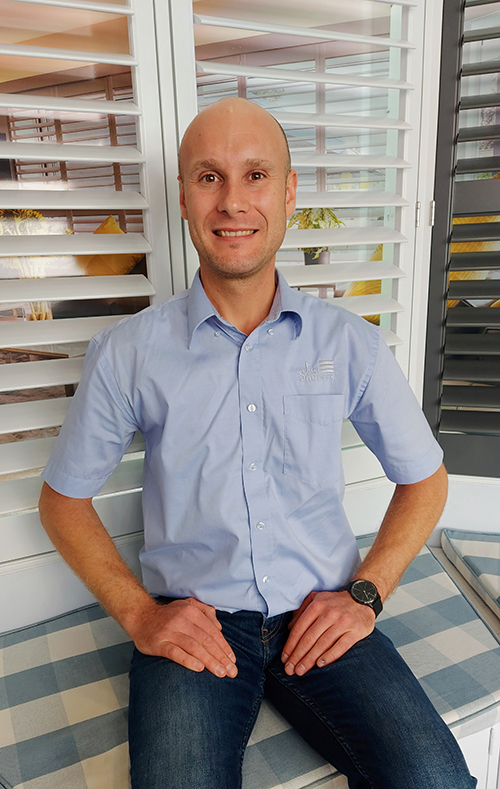 Ivan Secerov - Shutter Surveyor and Fitter
Ivan joined the Just Shutters team as a fitter in 2018. From the very beginning he says that he knew that this was his dream job. Ivan said "I love what we do and I love to transform our customer's homes with our beautiful plantation shutters."

Ivan enjoys making DIY projects, walks in nature and photography.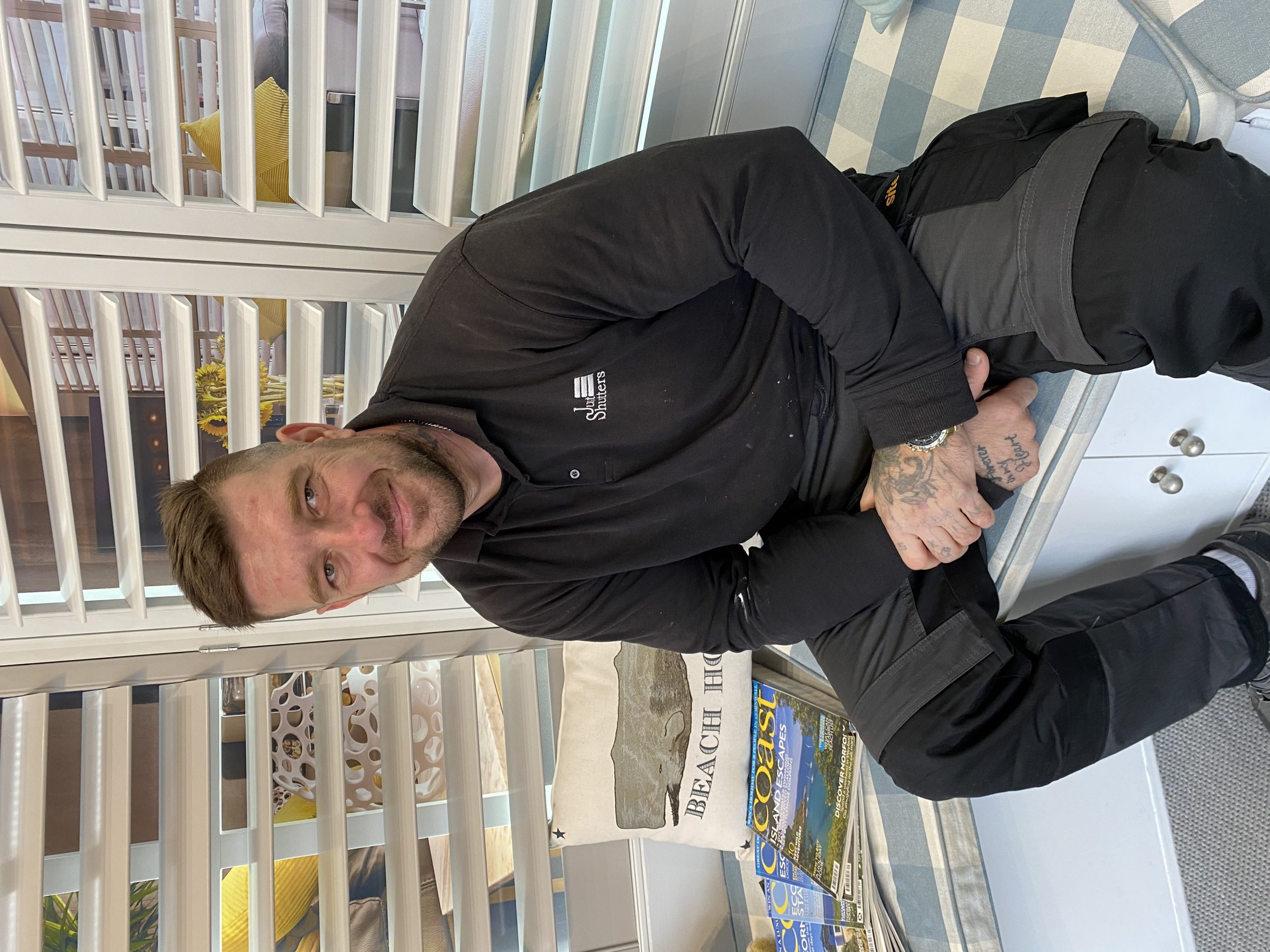 Tomaz Berer - Shutter Fitter
Tomaz has been with us since 2018. He is a valued member of our team and is always cheerful with a positive attitude.

Tomaz says "I am a very cheerful person and always pleased to help. I like to make other people happy and love working with customers, so working as a fitter for Just Shutters is a great job for me. In my spare time I am very active, Football and ice hockey are just two of the disciplines that I am interested in. I love cycling trips, good food and going to the cinema. I also make time to listen to good music".
Just Shutters South West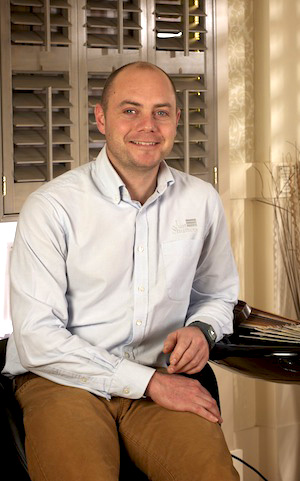 Andrew Cook – South West MD
Andrew is based in Exeter and started the Just Shutters South West franchise in 2011 covering Devon and Cornwall. He has established a fantastic reputation and strong customer base.

Andrew says, "I enjoy running the South West franchise and getting out and about all over Devon and Cornwall and meeting all my customers. I take great satisfaction in the pleasure my customers receive after each installation, which is a result of lots of hard work and attention to detail.

"It's also great to know that a large part of my work comes from additional orders and customer recommendations to friends and family. It's really enjoyable running your own business, as well as being part of a larger team in Just Shutters Ltd".
Just Shutters Hertfordshire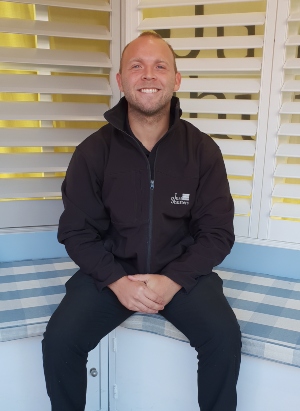 Tom and Brooke Parrott – Hertfordshire MD
Tom Parrott is a shutter expert with years of experience in every element of their design, manufacture and installation.

He and his wife Brooke take the helm of Just Shutters Hertfordshire. The husband and wife team have worked for Tom's family business in the US for many years, specialising plantation shutters. Tom is an all-round shutter expert with a passion for both the creative and hands on side of the business.
Just Shutters Kent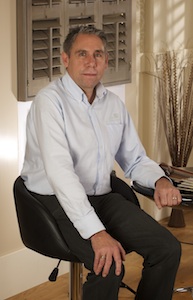 David Stansbury – Kent MD
David Stansbury is our Just Shutters Kent MD. He says, "I love to travel and experience different countries and cultures, probably as a result of my parents: Dad served abroad in the army then the government so we moved around.

"I was seven years old before we settled in Kent. I went to school and college in Tunbridge Wells and have spent the last 30 years in various engineering posts. In 1982, between jobs, I jumped on the Magic Bus at Kings Cross with my soon-to-be wife and travelled to Athens. Our journeys took us around the Greek islands and through many countries in Europe before we settled back in England. We decided that if we could survive three months abroad living in each other's pockets, we may as well get married - so 30 years later here we are! We took up trekking in 2001 and completed treks up Mount Snowdon and Ben Nevis before conquering Kilimanjaro and Machu Picchu. I love to watch sport, especially football. I follow Chelsea, but Debbie, my wife, follows West Ham – so it can be interesting when these two meet! I have two great daughters who have given us four beautiful grandchildren whom we both spoil. When redundancy reared its head again in 2012, after much soul-searching and lots of research Just Shutters ticked all the boxes, and here I am!"
Just Shutters South Manchester and Cheshire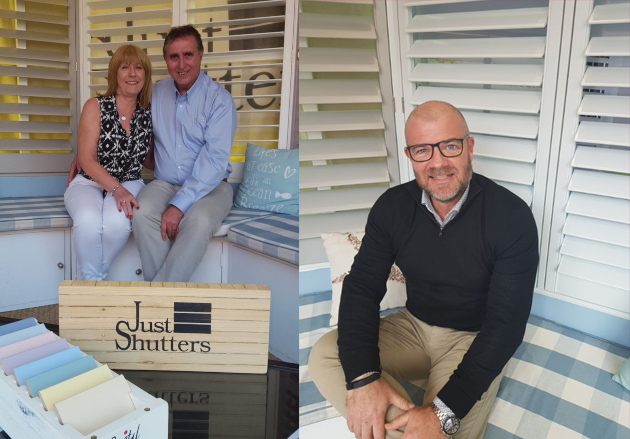 Ken and Angela Eardley and Jonathan Read – Manchester and Cheshire
We are thrilled to offer shutters in Manchester and Cheshire. This area is co-managed by Jonathan Read in South Lancashire and by Ken & Angela Eardley in the Wirral & Cheshire. Their ethos and professionalism are impressive so the area is well covered.

Ken says 'Both Angela and I have a very strong desire to offer the very best service to all our customers in the local areas and provide this in both a friendly and professional manor.'

With Jonathan and his wife Victoria's passion for renovation and design, they are looking forward to delighting their clients and improving homes across the area.
Just Shutters Birmingham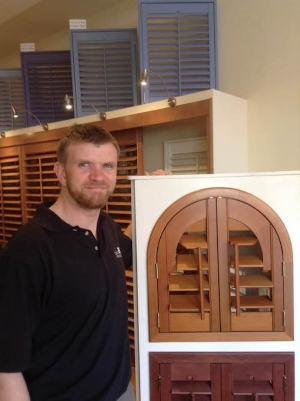 Andy Cox-Peel - Birmingham MD
I love my family and spending time with them as a husband and father. I value community and am active in my local area due to my faith. I love working with wood and natural materials, crafting various things from spoons to baskets to tables. I enjoy the outdoors, camping and playing as much sport as possible!

Throughout my life I've worked with a variety of people from all walks of life and really enjoy people and their stories. Whilst I enjoy being part of a team, I am also able to work alone and have the motivation to do so.

I like to initiate and spark ideas, get hands-on and look for creative ways to make things happen. I'm optimistic and have an adventurous streak in life that helps to characterise how I operate. I really enjoy how shutters transform a space and enjoy the customer's delight in the finished installation. Call Andy for the best shutters in the West Midlands.
Just Shutters Essex Franchise
Hayley and Terry Lancaster - Essex MD
Hayley and Terry Lancaster are a husband and wife team who have taken over the franchise in Essex.

Terry has been working as an electrician for 9 years and has previous history in sales roles.
Hayley works in Canary Wharf in the financial industry boasting strong administrative and organisational skills. Together as a team they bring the complete package.

Hayley and Terry are extremely enthusiastic and excited to take on the franchise for Just Shutters.
Hayley says: "Our friends had shutters fitted and we loved them so much we had them fitted to our house. They finish the look of a room, they're classy and timeless."

Shortly after falling in love with shutters themselves, Hayley and Terry saw the franchise opportunity and decided to grab it with both hands.

The design and installation skills that Terry poses from his current role and his enthusiasm for engaging with people will be key to ensuring the Just Shutters ethos will be continued. Hayley will provide the administrative support along with the Just Shutters showroom team.

"We are both extremely excited to start a new venture together, we can't wait to get stuck in."
Just Shutters Sussex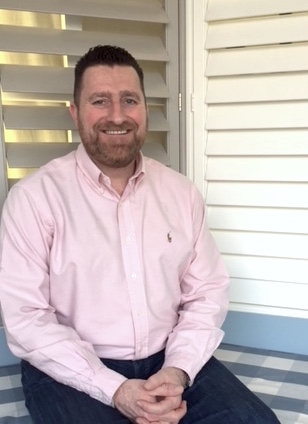 Heath Fraser - Sussex MD
My name is Heath Fraser and for the last 25 years I have been a very successful Manager for the pub/restaurant trade all over the UK.

I have recently been thinking about my future and realise that there is more to life than 100 hour weeks. I would love to spend a bit more time at home with my wife and 18 year old son and 15 year old daughter, watching him at rugby and her at ballet.

I live in the lovely village of Angmering and enjoy walks in the South Downs as well as along the surrounding beaches especially with our labradoodle family dog called Florence.

I am extremely excited about starting on my new adventure with Just Shutters, meeting new people and making new friends.
Just Shutters Surrey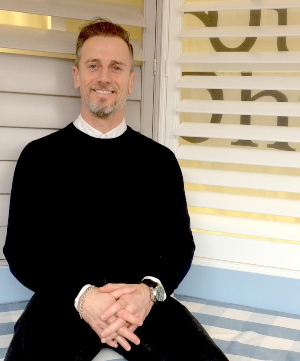 Simon Broadhurst - Surrey MD
Simon Broadhurst spent the last 20 years working in media advertising sales in central London for companies such as ITV and Channel 4 but since starting a family just a few years ago, he has been looking for a change of career that would allow him more flexibility and one which would also satisfy his love for design and home improvement.

Simon says: I knew I wanted to start my own business so I looked into franchising as it provides a certain level of security.

My wife Georgina discovered Just Shutters and straight away I had a good feeling about the business which was backed up as soon as I met the highly professional and passionate team.

I know I will get an enormous sense of satisfaction from making the homes of Surrey look even more beautiful with the addition of quality shutters and I'm very excited to be part of the Just Shutters team.

If you are interested in becoming a Just Shutters franchisee, please see our dedicated franchise opportunity website.
Just Shutters Hampshire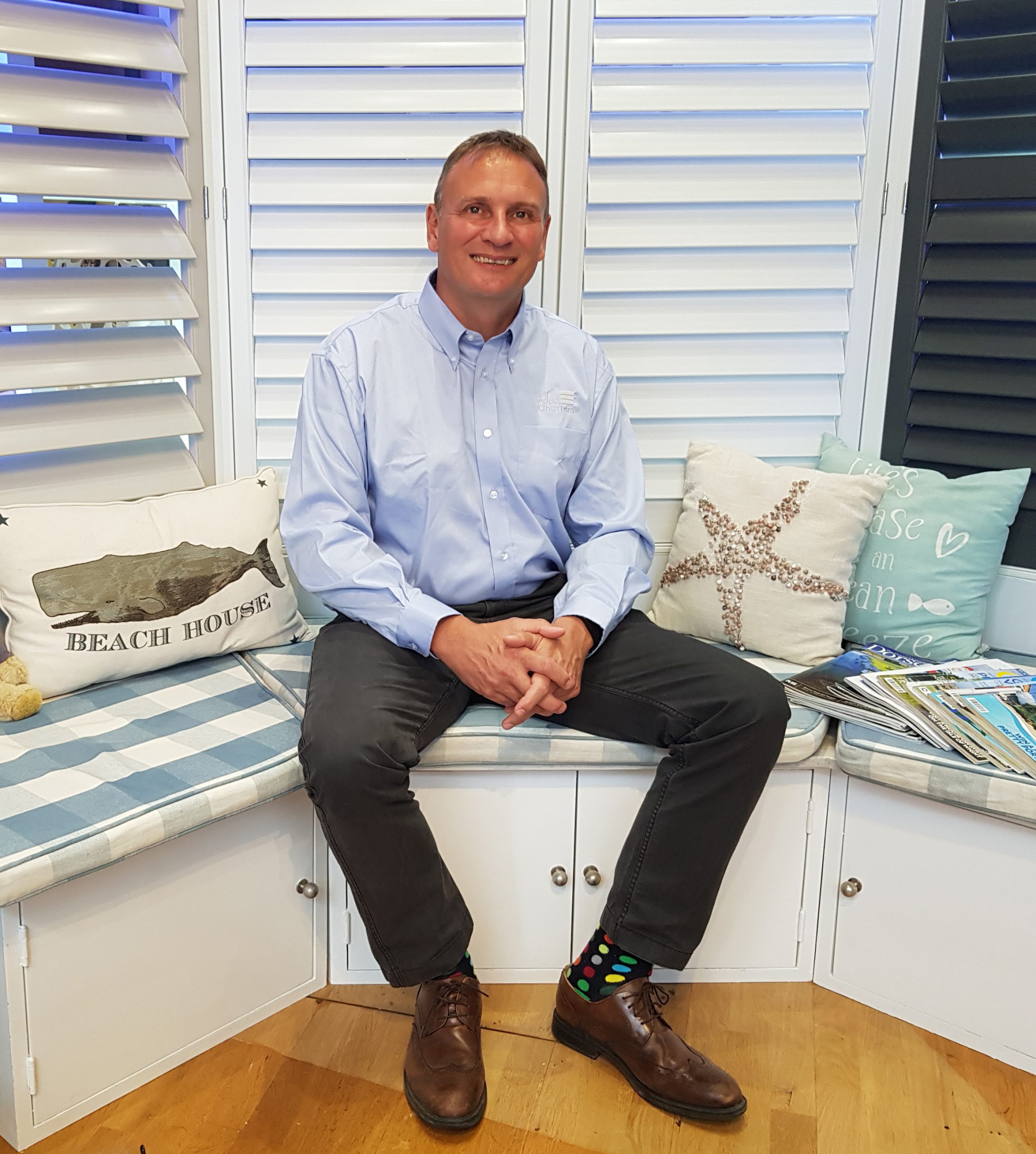 Ben Chick - Hampshire MD
After a 20 year career in the international financial services software industry, Ben has had enough of airports and hotel rooms and recently acquired the Hampshire franchise.

Ben says "Just Shutters stood out as a strong, family-run local business that took great pride in its product and superior customer service - ideals which I value highly".

He went on to add "Having a personal interest in design and architecture, I appreciate the benefits that shutters bring in both function and visual appeal. They truly do transform a room and being part of that process, witnessing the customer satisfaction at the final result is hugely rewarding".

The versatility of shutters allows customers to complement existing traditional features or support a more contemporary look with a modern edge. Every house is different, and Ben looks forward to assisting customers with their transformations.

When not "Shuttering" Ben enjoys spending time with his young family, DIY and exploring the beautiful countryside of Hampshire. Originally from Australia Ben has family ties in Hampshire and enjoys following rugby, cricket, football and dabbles in the occasional bad game of golf.

Just Shutters Oxfordshire
James and Charlotte Chenery - Oxfordshire MD
James has had two long term careers before just shutters, the first was as the manager of Snappy Snaps (photography) in Guildford where he worked for nearly ten years. James helped build the business and had very strong customer relationships. Then in 2011 after a move to Oxfordshire he started working for our family business, a children's nursery.

He gained his qualifications and became the manager, essentially running the business and gaining them a "good" from ofsted. He worked there until June 2018. It was very long hours and lots of pressure so he is looking forward to a new chapter and hopefully seeing a bit more of our children!

Charlotte trained as a beauty therapist in 2004 and worked at Cedar Therapy, a day spa in Oxfordshire. She became a senior therapist and then the manager until she was in a position to buy the business from her then boss. In 2009 she became the owner of the salon and in 2011 purchased another salon which became Cedar Therapy Chipping Norton. Charlotte ran the salons in a very hands on capacity until the couple's oldest son William was born in 2013. Having sold the businesses in 2016 to have their second and third children son Artie and daughter Florrie, James and Charlotte talked about finding something to do together and when they came across just shutters they thought it could be perfect.

Charlotte says; 'I love interiors and home improvements - property renovation is a big passion!! I knew James would be fantastic at the hands on part as he has a good eye for detail and is a bit of a perfectionist!'
Just Shutters N.E Wales, Wirral and Cheshire
Ken and Angela Eardley - North East Wales MD
Ken and Angela live between Mold and Wrexham and have done so for over 30 years. They have two grown up boys living in Tarporley and Halkyn. Ken says 'we are absolutely delighted to have joined the Justshutters family, owning the franchise for Chester, Wirral and North East Wales.'

Angela has a history in accounts and customer services, she still manages the accounts for a local, family run, Kitchen and Bedroom company in Mold who service a very similar area. Ken has a long history in retail and local business sales and for the last 10 years has been a Key Account manager for Mercedes–Benz and VW Light commercial vehicles.

Ken says 'Both Angela and I have a very strong desire to offer the very best service to all our customers in the local areas and provide this in both a friendly and professional manor.'

When not working Ken and Angela like to keep active, Angela runs, rides both road and mountain bikes and is a regular in the fitness centre's classes. Ken is an avid road cyclist covering between 80 & 100 miles per week. He also plays squash once a week and likes to walk in the hills when he has chance.

The couples love a good holiday with Angela adding; 'Holidays for us have to involve sun, sand, sea and plenty of activity. On our last holiday we cycled from the Dolomites in the Italian mountains down to Venice were we enjoyed 4 days of days of rest and sightseeing. In the winter we like to ski, particularly in the Courchevelle region of the French Alps in the company of our two boys.'

Ken says; 'If you have an interest in having some beautiful plantation shutters in your home, it would be our pleasure to give you the finest possible products and service.'

Just Shutters Bristol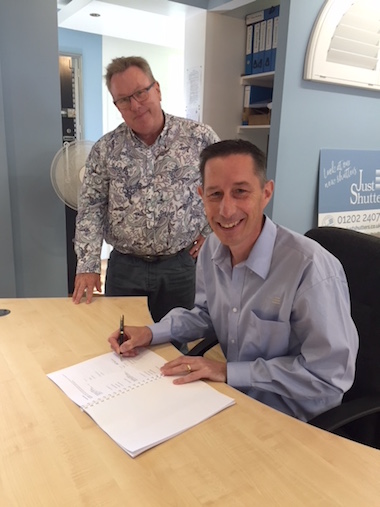 Rob and Linda Reeves - Bristol MD
Linda and Rob have lived and worked in Bristol and Gloucestershire all their lives, this is where they feel at home.

Rob says 'We first met at school, married in 1996, we now have two lovely teenage daughters and a border collie called Tilly.'

'For the past 25 years I have worked in the telecoms industry in quite demanding account management roles while Linda has been the rock of our family and has worked tirelessly in administrative roles. We both have a fondness for travel and taking our very energetic Tilly for long walks.'

In 2017 Rob was made redundant which gave him 'a great opportunity to take stock, have a breather and look for a more fulfilling, creative way of life'.

After lots of discussions with Linda and exploring a number of ideas Just Shutters just 'leapt off the screen' and they both say 'as soon as we saw it we knew, it just felt right. We met Simon and Chris and promptly decided to join.'
Just Shutters North Yorkshire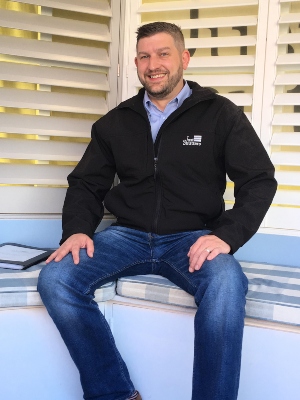 Paul Wells - North Yorkshire MD
Paul was originally born in Belfast but moved to Yorkshire when he was 5. He joined Just Shutters because he has always enjoyed working in a public facing environment, plus with 25 years in the supermarket industry under his belt he is in great stead to understand business operations and customer service. He says " being brought up in a family of tradesman has resulted in handy work being a passion of mine. I can't wait to combine my skills from industry and my passion for being creative and hands on in new career"

Just Shutters South Lancashire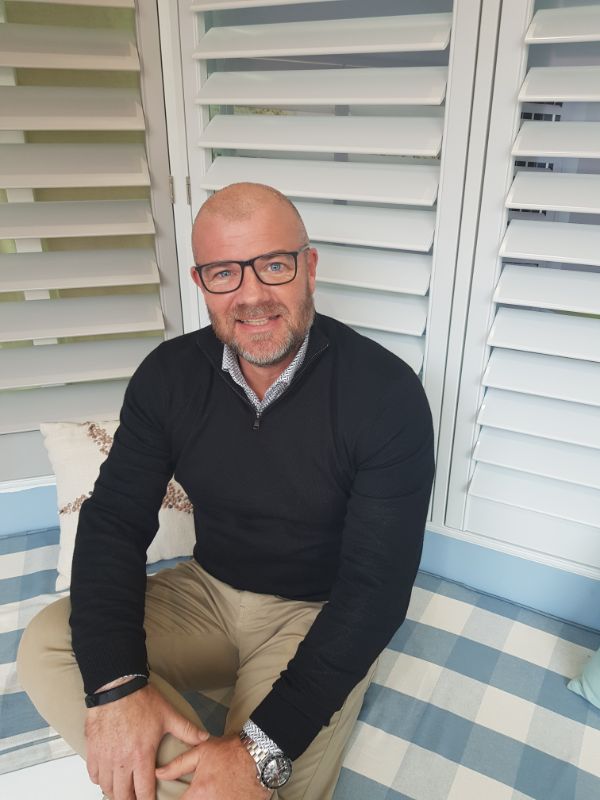 Jonathan Read - South Lancashire MD
Jonathan has 25 years of experience working with some of the most recognised brands on the high street. His speciality was building teams that offered exemplary service to customers.

Eventually, he decided it was time for a change of direction in his career. Jonathan wanted an opportunity that would allow him to continue his drive for excellent customer service while spending more time with his family. Even better with his Just Shutters business, he could combine his love of and flair for design.

He says: "Working for myself has always been a personal goal and Just Shutters gives me the
opportunity to grow my own business while having a fantastic support team behind me, it's the family feel that sealed the deal for me."

With Jonathan and his wife Victoria's passion for renovation and design, they are looking forward to delighting their clients and improving homes across Lancashire and Merseyside.
Just Shutters Thames Valley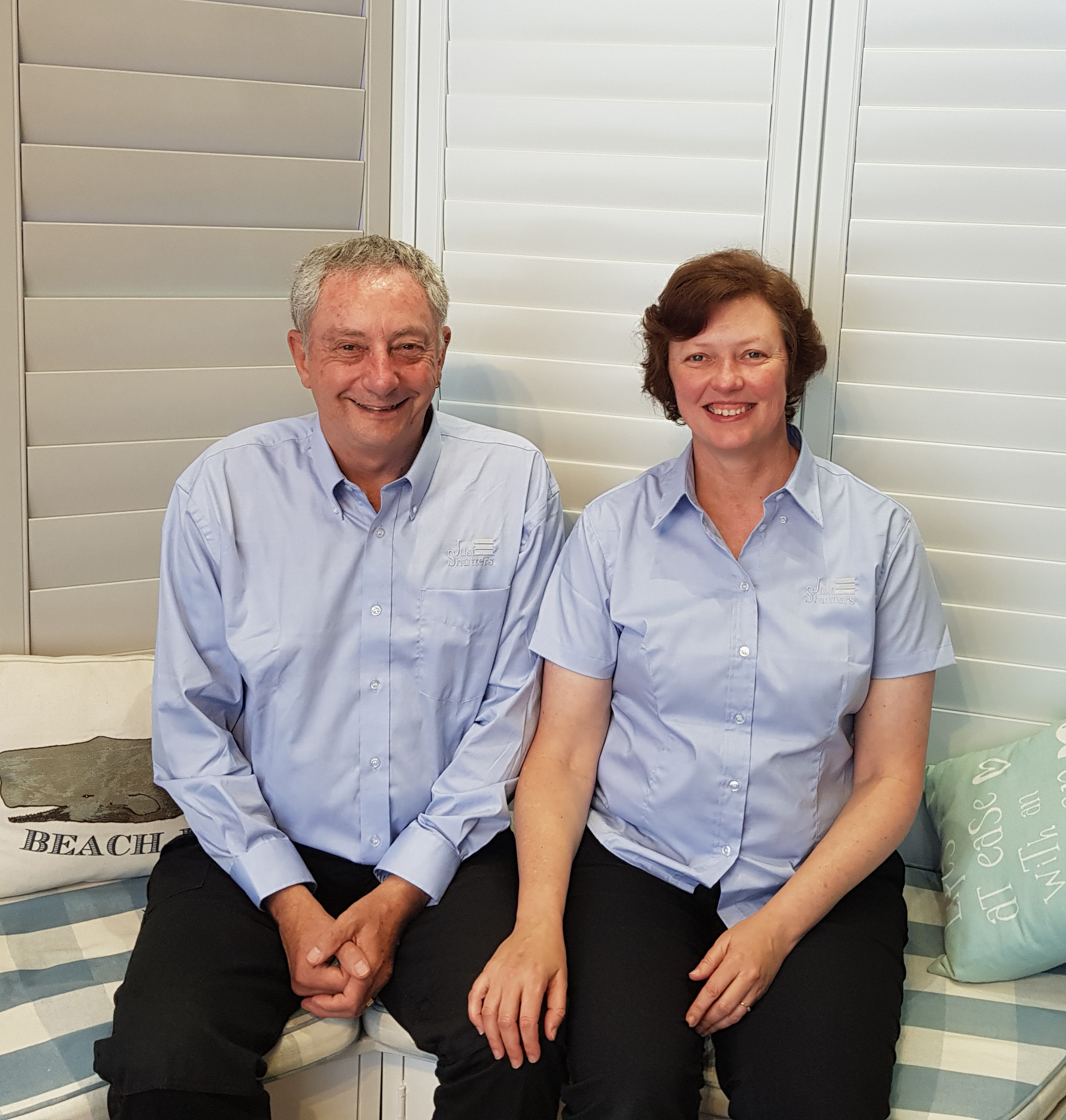 Emile & Penny Van Heerden - Thames Valley MD
Emile and Penny join us following an incredible life of travel and experiences. Penny was born in Zimbabwe and moved to South Africa aged just 10. On meeting South African born Emile, following their initial years in South Africa, they lived for many years in Japan before moving to Hungary and finally making their home in the UK. They bring to Just Shutters a wealth of experience. Emile says " We are both really excited about the prospect of a new challenge, we love the look and quality of the Shutters and have been incredibly impressed with the professionalism of the Just Shutters Team". Penny adds "We both share a love for interior design, adore Shutters and we can't wait to help our clients add the 'wow' factor to their homes across the Thames Valley area".

We won't argue with that, they are both Martial Arts experts!