Bespoke Plantation Shutters From Just Shutters
Are you looking for bespoke plantation shutters? All Just Shutters beautiful shutters are designed and made to measure. From the very first moment we have contact with a customer, we ensure that every detail is tailored to their exact requirements.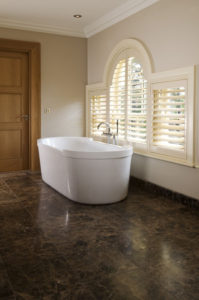 Every set of shutters are designed just for you. But more than this, we spend time giving you the freedom and guidance to make the right choices on all aspects of our custom designed shutters.
From overall colour palette, to materials and finishes, we give you the widest choice. We even have our own exclusive ranges. So, whatever your style preference we will advise and design just for you. Whether you want large hinges, wide or narrow louvres, wood grain or brightly coloured shutters: if you prefer a light, bright modern shutter, or a cosy traditional one, we have the solution for you!
Shutters choices:
Shutters can make any statement you choose. They can lighten and brighten a modern home, or add cosiness to a cottage; here are some of the design choices we offer:
Shapes
Styles
Finishes and colours
Louvre sizes
Materials
Hinges
Mounting and Framing
Please click on the menus above for further information on the range of design options we offer.