Once-a-year shutter sale starts early! We at Just Shutters pride ourselves on our brand values of quality and customer service. We always go the extra mile to ensure our customers have the very best possible value. Now is the time of year when our exceptional value stretches even further with 20% OFF OUR ENTIRE RANGE!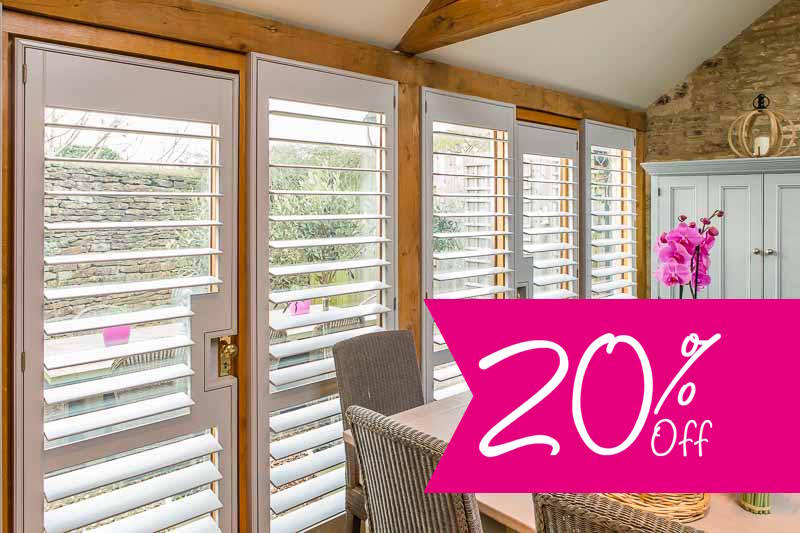 All inclusive shutter sale
With our all-inclusive prices, our 20% discount means that not only do you get 20% off our stunning shutters, you get 20% off everything that comes with them! Including our industry leading shutter fitting.
So don't settle for less from your January sales! Expect the best and make your appointment early. We are always extremely busy this time of the year (hence we are allowing early orders) so get in quick and our expert shutter designers can place your orders at the front of the queues.
Change your view this Christmas and New Year and make the most of your windows (or doors). Knowing that with our guarantees, shutters really are for life – not Just for Christmas…
Call now on 0845 894 0700 for more information and to take the next steps. Follow the links below to download our inspirational brochure or to arrange a home design visit.
'We look forward to the Just Shutters January Sale each year. We started to do our windows two January Sale's ago. Last year we added and this year we will finish our house!' Mrs T, Kent.
'I can't wait for the sale to start I have just one window left waiting for a shutter! This year Just Shutters January Sale will complete my home!' – Mrs F, Christchurch.
* You must have received your design visit and quotation and placed your order by January 31st 2018 to secure your 20% discount so please don't delay!